Agriculture is the primary source of livelihood in the regions where PRADAN works. With current low levels of productivity in agriculture, PRADAN extends assistance in finding opportunities to enhance livelihoods. Over half of PRADAN's livelihood programmes being focused on agriculture, its improvement – and the overall management of natural resources – remains key in the battle against endemic poverty in the rural areas.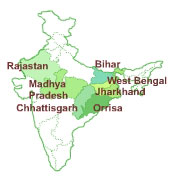 Enhancing productivity and diversification are the core strategies of PRADAN's agriculture programmes. Specific activities are increasing the productivity of the main cereal crops to improve food security, and diversification into cash crops such as pulses, oil seeds, and vegetables
Whichever programme is undertaken, PRADAN seeks to ensure its sustainability. In order to achieve this, the organisation trains and deploys a large number of agriculture extension entrepreneurs to the field. Producers' institutions around agriculture are formed and strengthened as well.
As on March 2015, PRADAN worked with more than 178,600 families in improved agriculture.
Also see: Horticulture , Land & Water Resources