Nights of Kaspur village are usually calm, silent, and pitch-dark. Beneath a sky full of twinkling stars, one can see thousands of fireflies adorning bushes and trees. Tranquility reigns. Only Nirmal's sudden exasperated cries and Dulourin's sobbing would shatter this calm at times. Nirmal's cries would soon change into hysteric laughter. Dulourin will continue sobbing, pleading for mercy. Nirmal won't stop thrashing her. None would intervene, or stop Nirmal. "The mad is beating again" is all the neighbours will mutter. Beating one's wife after drinking liquor is nothing uncommon in villages like Kaspur. But none bursts out in a hysteric laughter after beating. His neighbours were not totally wrong in calling him "mad". Symptoms started developing since 2010, but with some support from local medical practitioners, Nirmal's mental stability was maintained. But 2016 onward things took a worse turn. Nirmal didn't stop beating Dulourin.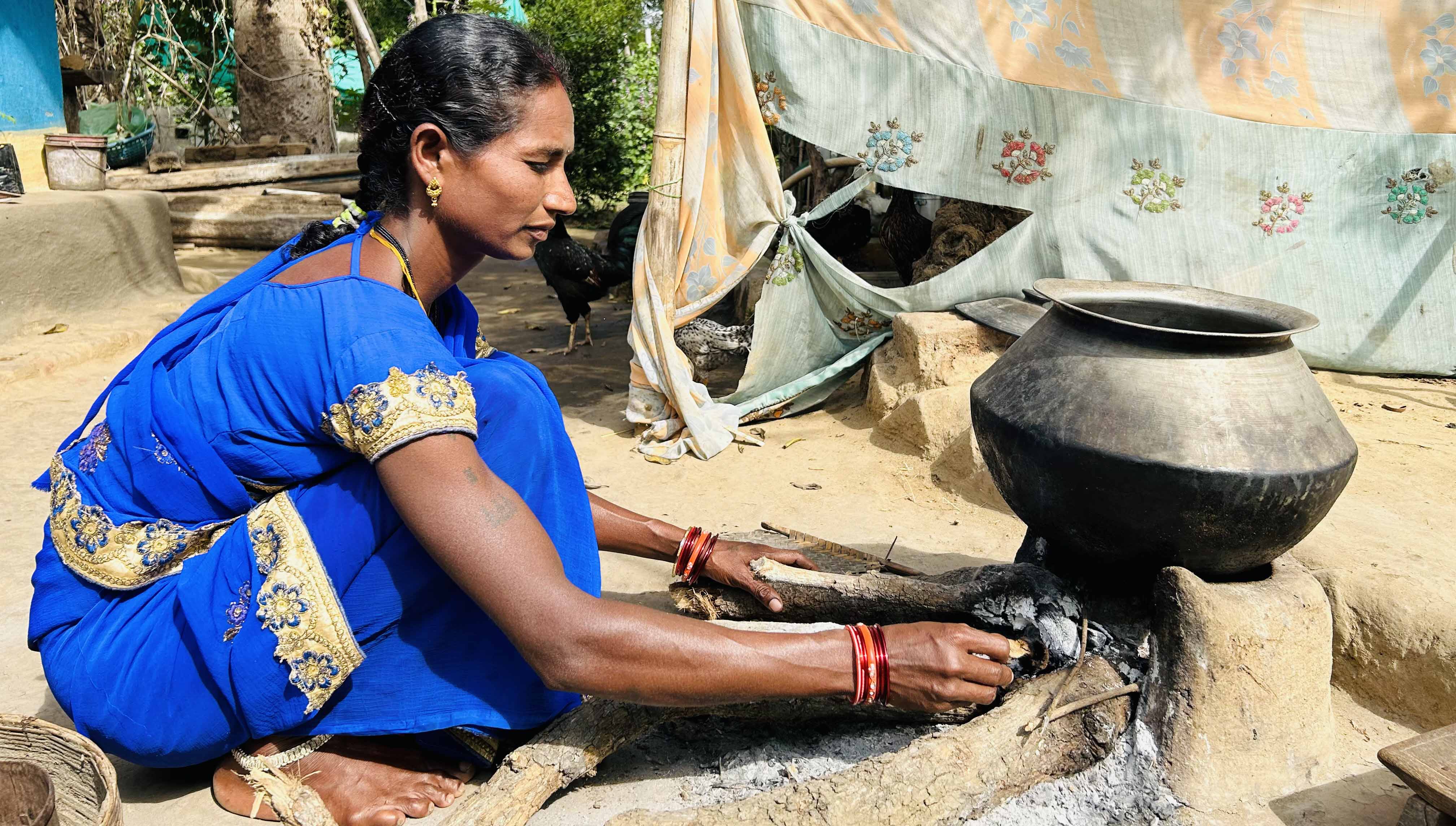 Dulourin Markam got married to Nirmal when she was 16. The new bride came to Kaspur village along with her groom. Dulourin gave birth to 4 children. Nirmal wouldn't stop beating her and then would burst out in laughter. He was not in a position to work anymore – the responsibility of managing expenses of a family of eight came to Dulourin. She started going out to work.
"I have to keep my husband tied with chains otherwise he will keep beating me due to his mental illness. I feel sad, but do I have a choice? No." shares Dulourin.
And to feed all eight, all she had was three acres of land where she grew paddy and some paltry income from daily wage labor work. Almost half of the year, she had to go to bed empty stomach. But the year 2020 proved to be a turning point for her. The year that shocked the entire world, changed Dulourin's life, for good.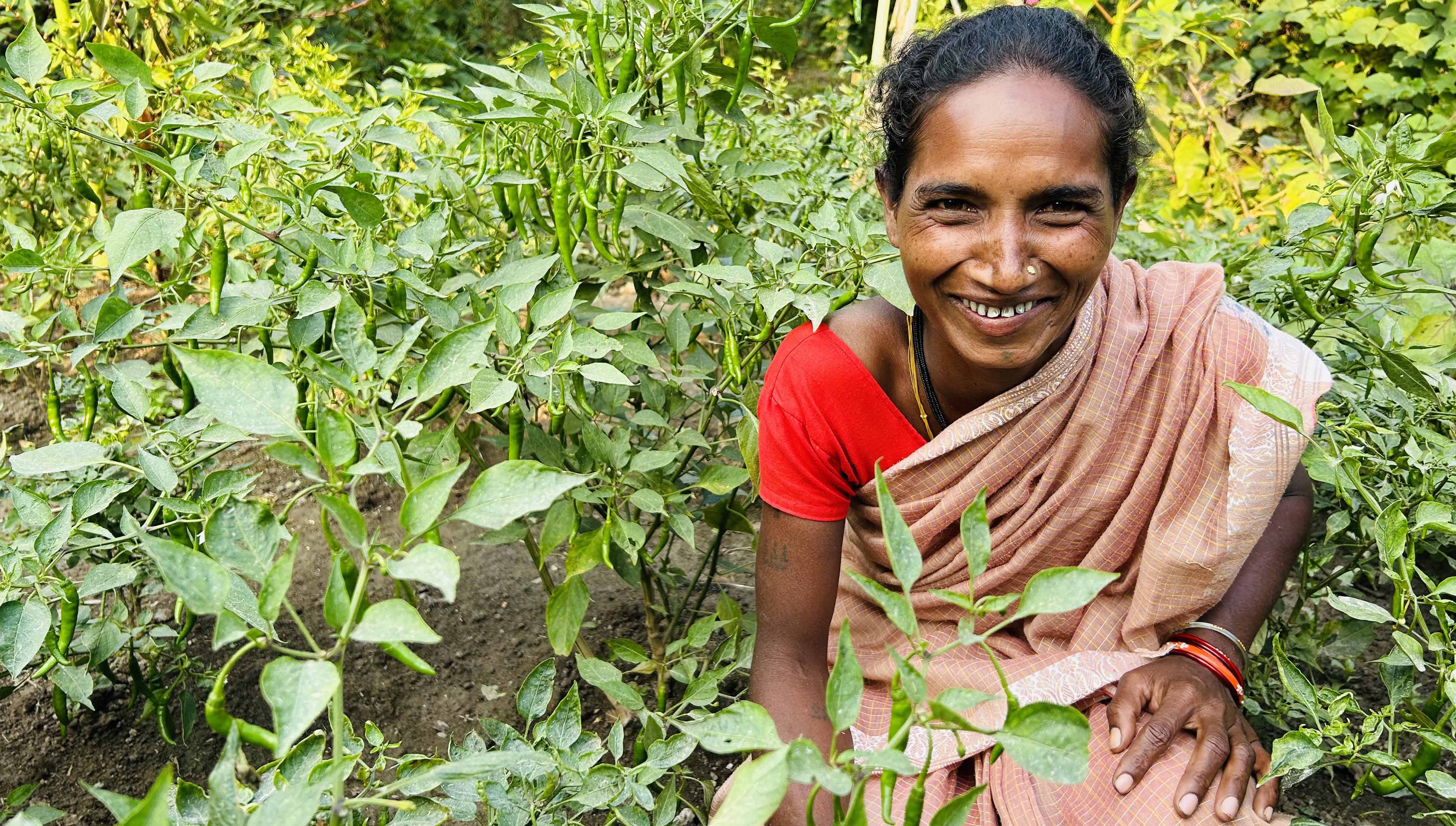 The local SHG members were prepping for their annual congress called Mahadhiveshan. Dulourin joined the group, just out of curiosity. What she saw there was a magnificent exhibition of collective strength, progress, and empowerment! A tsunami of emotions engulfed Dulourin, which soon turned into a feeling of determination. A determination to join this change – this transformation. She got to know that the easiest way to make it happen is to participate in trainings PRADAN was conducting, which can help improve her agricultural practices. What grabbed her attention in these trainings was the preparation and application of natural fertilisers and pesticides like Jivamrit and Brahmastra. She decided to test it out on her own crops, alongside adopting the System of Root Intensification (SRI) for growing paddy. The results astounded Dulourin and her neighbours. She produced 52 quintals of paddy, from the same field that used to produce only 36 quintals before! Dulourin made an investment for the future here. With every paisa she earned extra by selling the surplus paddy, she admitted her eldest daughter to a school, 200 kms away, in Jagdalpur, something that she had been aspiring to do since more than two years. The mother, prioritised better education for her child, above everything else.
Paddy was the much-desired beginning, Dulourin wanted more. Along with training on growing crops using natural fertilisers and increasing crop production, she had also started getting trained on vegetable cultivation. But all she had was the 3-acre land – how to adopt new crops, she would wonder. One day, after harvesting her paddy, when she was hoarding the stubbles on a small piece of land next to her home, an idea flashed in her mind.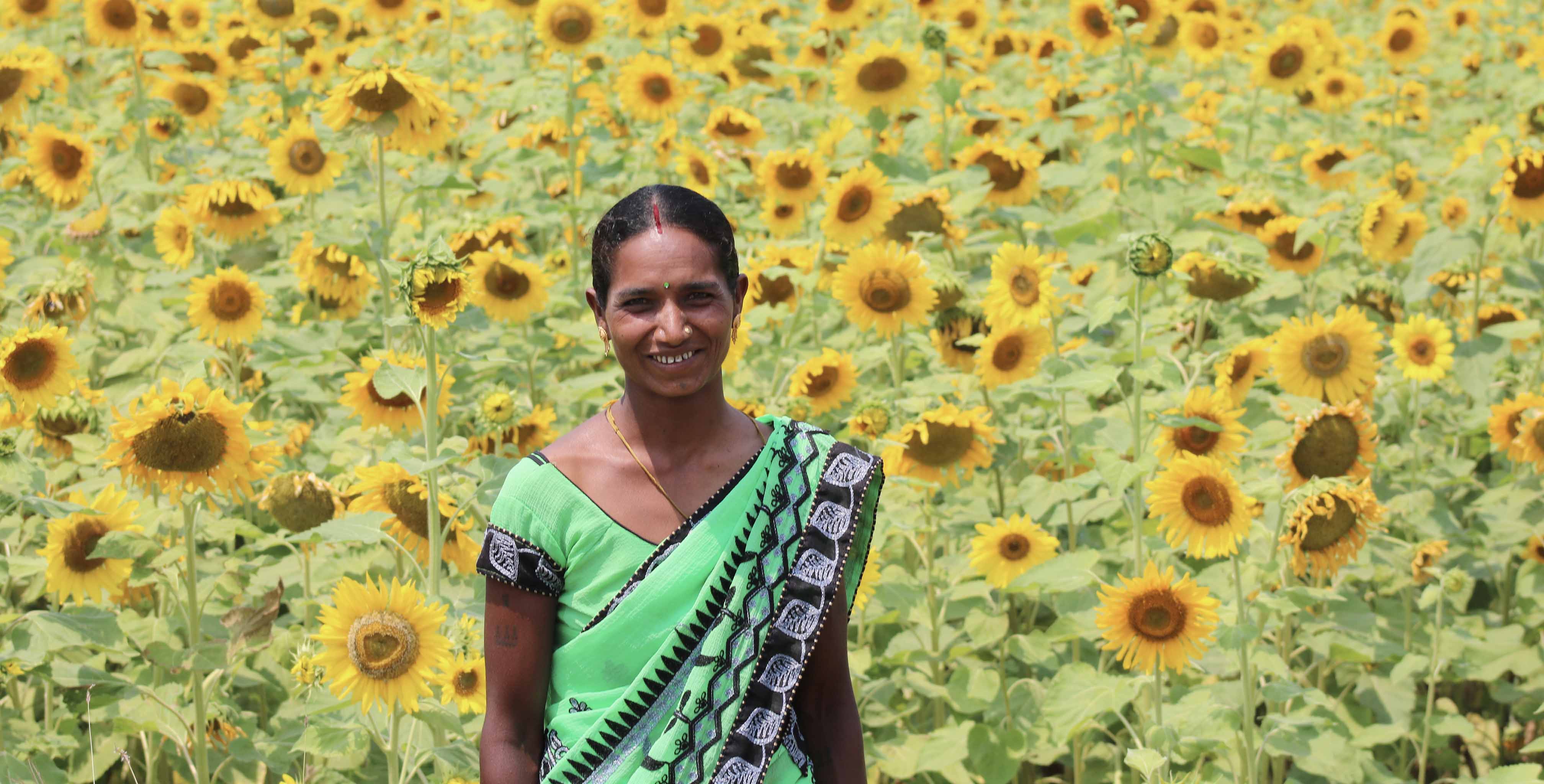 "Why don't I clear up this space….must be about 15 decimals?... and plant some vegetables here?", she kept contemplating.
She planned for growing bitter-gourd and chilly and planted 1050 saplings in this homestead which she carefully prepared herself. Dulourin applied her knowledge of natural farming here too, and with an investment of Rs. 1800, she earned Rs. 9600. The small piece of land that had remained fallow for ages, saw a plethora of activities that started happening on it. Once the bitter gourds were harvested she planted beans, and earned Rs. 3800 by harvesting them. The following winter she planted sunflower seeds which gave her another Rs. 7800 in return. More than Rs. 21,000 from a piece of land that remained unproductive, was a tremendous boost for Dulourin. She started convincing her SHG mates about the benefit of growing crops like bitter-gourd! Many of them actually started growing these vegetables the next season onward. Everyone loves to make a profit after all!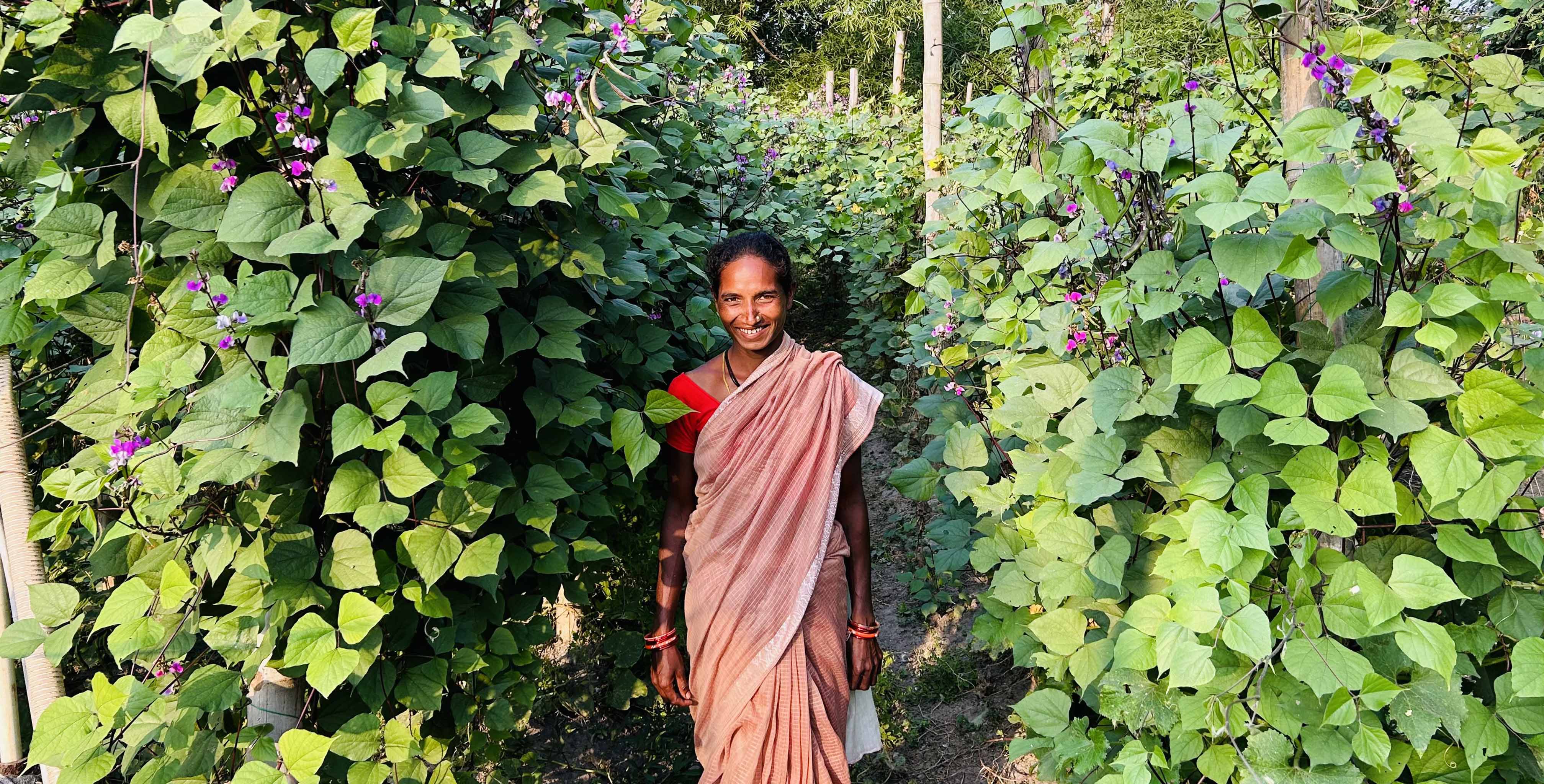 "Looking at my situation, my children always tell me that they will quit school and go to work with me to support me. But I have said a NO. I am doing everything to educate my kids", says an excited Dulourin.
Dulourin started exploring other options of enhancing her income. With support from HDFC Bank Ltd. Parivartan initiative, a 20 m* 20 m *3 m farm pond was planned in her hamlet. For her, it was an opportunity and pursued one of her neighbors to lend her land to Dulourin, to get the pond dug. PRADAN staff members helped her buy 2 Kgs of baby fishes, known as fingerlings with an investment of Rs. 800. It's quite early, but still, she has already earned Rs.1800 by selling just a few fishes.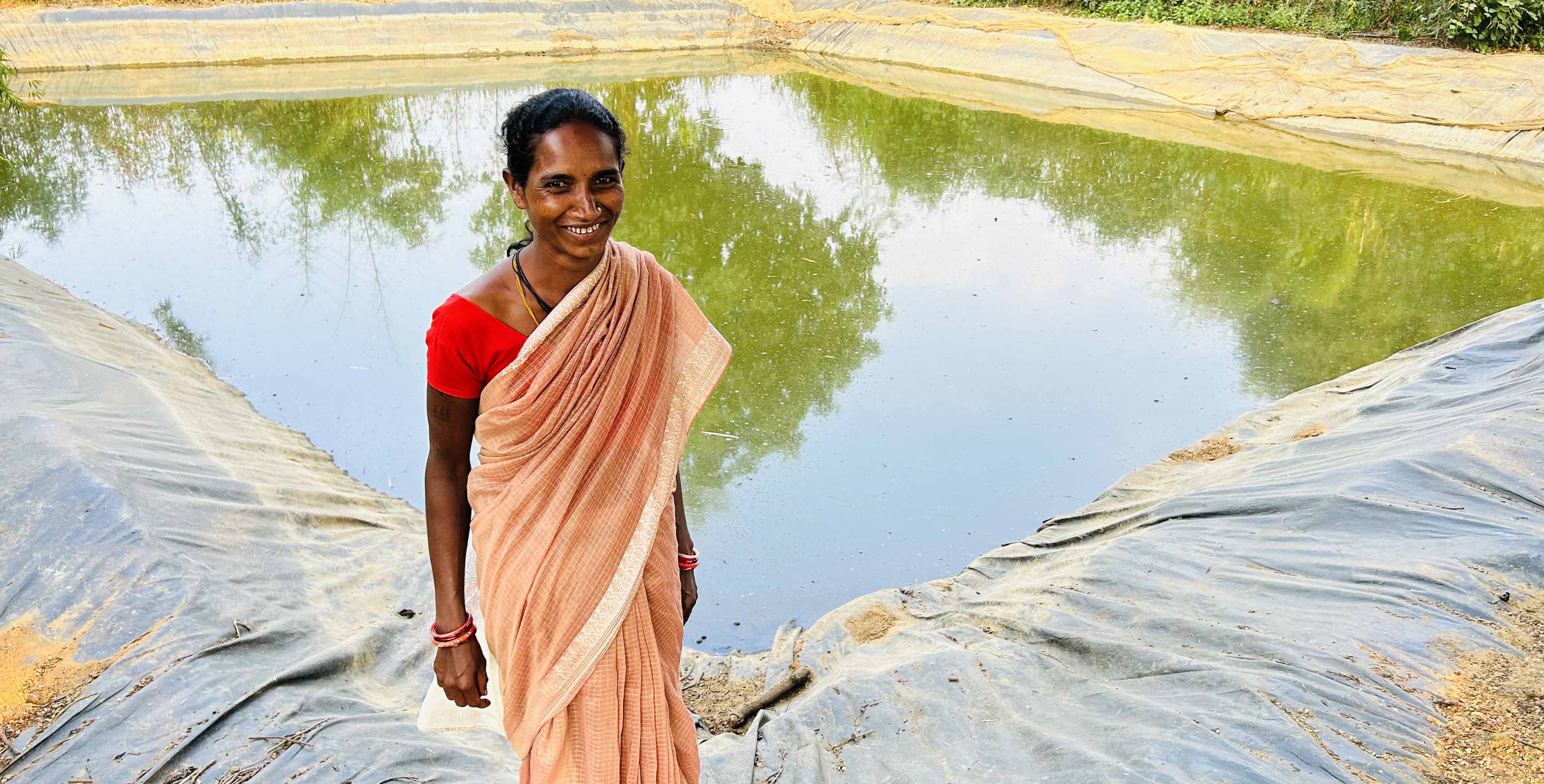 Nirmal remains in chains, almost all day. Dulourin started going to different villages to see how other farmers have improved their agriculture. She realised that drip irrigation has helped almost everyone to boost their crop production. Together with a few other SHG members, she started planning to grow vegetables in a larger area. In September 2022, with the support from HDFC Parivartan 2.5 acre of land in Kaspur was covered with drip irrigation of which her one-acre land is also a part. She is planning to utilize all one acre for vegetable cultivation.
"I have never found myself capable enough to earn a salary, nor did I ever think of earning it. But now I have become an agriculture entrepreneur and people call me to provide various kinds of inputs and trainings to improve their farm practices. And I get paid for these services. Back home, my family members have started showing respect to me. I don't know why but I am feeling proud of myself."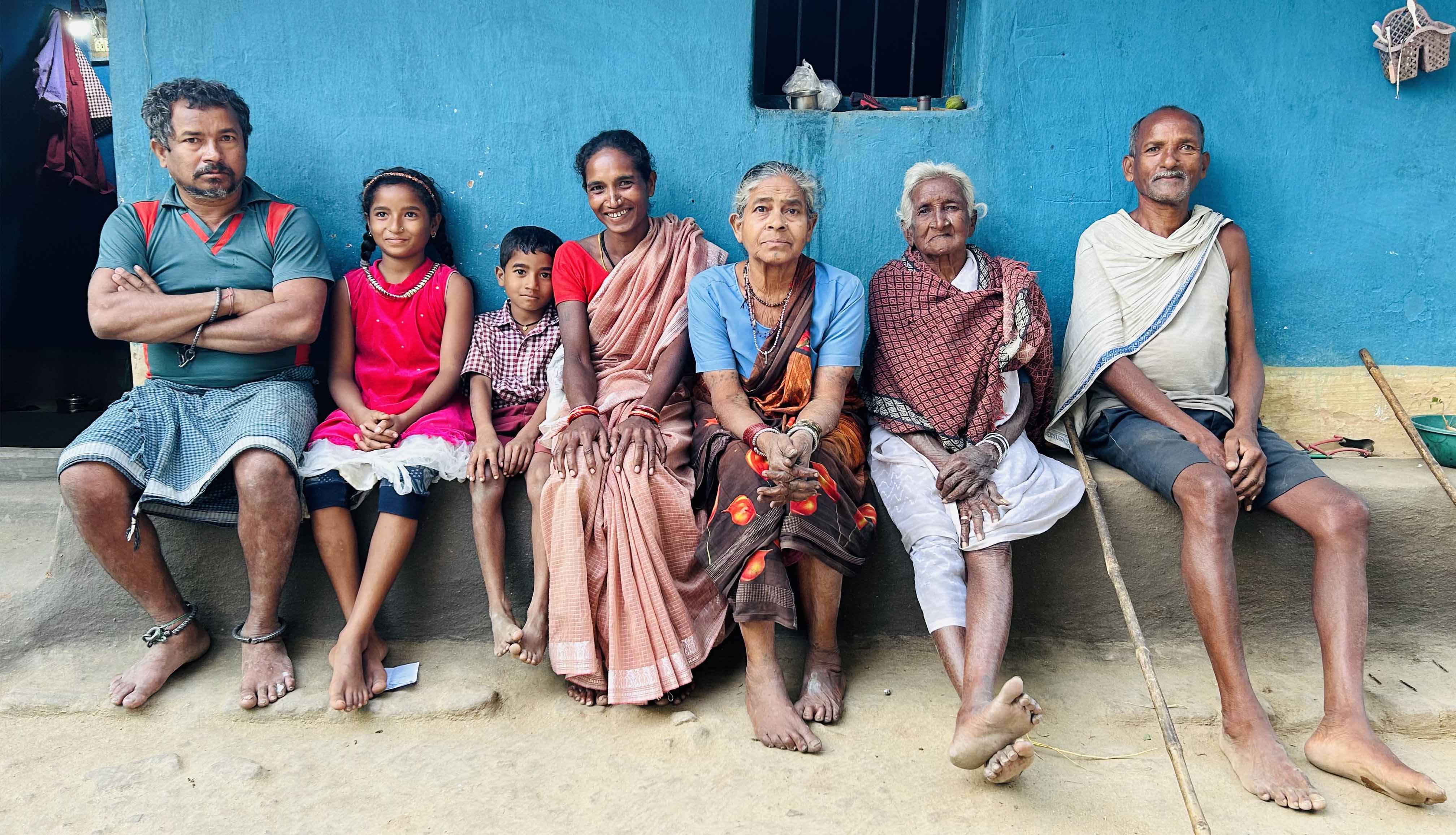 Her only regret is Nirmal doesn't understand all this. None of the doctors Dulourin has consulted so far could help Nirmal gain his sanity back. But she is hopeful. Deep in her heart, an indomitable Dulourin knows that a day will come when Nirmal will be completely cured. She will make sure that he gets cured.