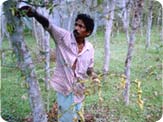 Sericulture – or the production of silk – involves the rearing of silkworms to produce cocoons, and then processing those cocoons to make yarn and fabric. Tasar is a variety of wild silk (Vanya silk) produced by the tasar silkworm, Antheraea Mylitta. This worm, unlike the mulberry silk worm, is only partly domesticated. Tasar is, therefore, reared in forest areas. The process requires round-the-clock vigil and, overall, dedicated husbandry for six to ten weeks.
Tribal communities living in remote forested areas are usually engaged in Tasar cocoon production. The activity is a source of supplementary income for the poor families who are otherwise engaged in small and marginal farming or are migrating to other places in search of livelihoods. Since cocoon production involves family labour, yields quick returns and requires simple technologies, it is ideally suited for these families. The activity requires very low initial investment, and the key requirements are labour which is readily available, and flora which is plentiful in these fringe forest areas.

The growth potential for this economic activity is simply enormous. There is constant demand for tasar silk, estimated – both for domestic consumption and the international market – at 1,500 metric tonnes (MT) per annum of raw silk fibre


As on March 2013, pradan worked with 6,849 families in tasar cocon production.. The rearers have been provided with trainings in improved rearing techniques developed by the Central Silk Board (CSB). Those techniques have reduced the risks and increased overall productivity.
PRADAN's intervention in Tasar rearing comprises of four elements:
Improving supply of Disease Free Eggs or Laying of the Tasar insect (DFLs);
Trainings on improved practices for silkworm rearing and maintenance of forest stock;
Raising plantations of tasar host trees in privately owned lands; and,
Creating a pool of service providers.

Also see:
Lac Cultivation
,
Siali Leaf Plate