PRADAN is one of the pioneers in the promotion of Self-Help Groups (SHG) in India, having formed its first SHG in Alwar, Rajasthan, in 1987. A savings and credit SHG is a simple yet effective way of reaching out and connecting with rural poor women.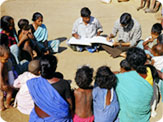 A Self-Help Group is an informal association of 10 to 20 poor women belonging to the same village and sharing a common socio-economic background. The group enables its members to gain their identity as individuals, while realising – and utilising – the immense power of mutual aid. It provides them with a platform from where they can access banks and public services, and spearhead changes that affect them as poor women.
Nurturing Self-Help Groups of rural poor women is PRADAN's key tool in fulfilling its mission and goals. The Self-Help Groups work for the women in a number of ways: they provide guidance; they give support and assistance to women; and they identify and promote home-based enterprises among its members. These home-based enterprises, called "honeybee activities", involve a myriad of ventures. The SHG members take loans from the SHGs and set out to begin an enterprise of their own.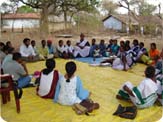 As a result of PRADAN's intervention efforts, an increasing number of rural families – especially women – are engaging in independent livelihood activities. These activities serve as opportunities for diversifying and enhancing their incomes.
PRADAN gives particular attention to women because even as they comprise half of the country's population, they remain the most disadvantaged sector among the poor. Yet it is the women who prove to be most effective in fostering change in their families and communities.

With PRADAN's guidance and the members' own experiences, SHGs can potentially play four key roles through the different stages of evolution: mutual help, financial intermediation, livelihood planning, and social empowerment.

As on March 2013, Pradan worked with 18,736 SHG's across 7 states, representing a total membership of 252,070 rural poor women. These SHG's have mobilised a total savings of 1230 Million Rupees

Also significantly, the financial accounting and Management Information System (MIS) of PRADAN's SHG programme has been streamlined by the innovative system of community-based accounting through the Computer Munshi System.

Also see Forest , Land and Water , Livestock , Micro Enterprise Promotion