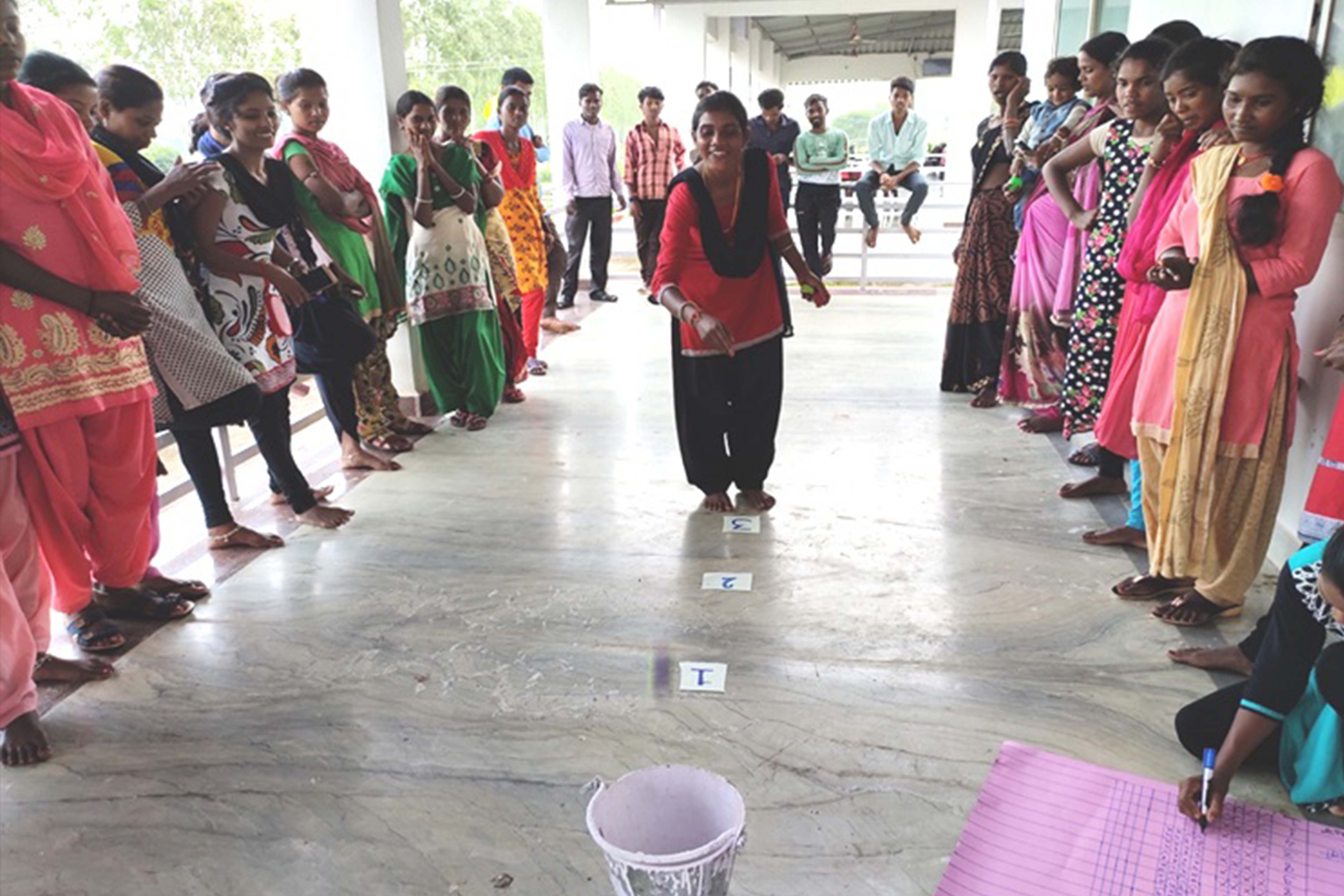 I joined the Karanjia team in PRADAN in 2016. Karanjia is a block in Dindori district in Madhya Pradesh. When working in the villages with my colleagues, I found that we had to constantly struggle to get things done, including mobilizing women into Self Help Groups (SHGs), convincing them of the benefits of collectivizing, working on livelihoods training in new technologies and methods, convincing the community to adopt these technologies for increased yield and income, etc.
We soon discovered that women, invariably, took on the responsibility for all these activities, fighting desperately against time, to better their living conditions. For women,who busied themselves with work all through the day, it seemed as if the number of hours in a day were inadequate. Most evident, as well as most bizarre, was the fact that the youth in the village seemed to have nothing but time on their hands! The women expressed their concern and worry about this casual attitude of their children.
When we, in the PRADAN team, engaged with the youth, a whole new world about the minds and lives of these young adults opened up for us. Their underlying, exuberant energy attracted us to them. Once we had their trust, we learned that young Umeshwari wanted to learn stitching but her family was not able to financially support her; Mansaram wanted to become an expert technician but had failed his 12 th exams; Namina wanted to become a nurse and help people but needed to stay at home to take care of her mother; Mahendra wanted to run his own business but didn't know how to begin; and there were many girls like Chhavli, who didn't want to do anything because they were going to get married and had been told to focus on house work.
We found that there were gaps in the dreams and aspirations of these young people and the chances of achieving them. These ranged from limited exposure, limited opportunities, low education level, lack of family support, tragedies at home to financial struggles, poor connectivity in off-road villages, caste and gender biases, and the lack of articulation of their aspirations.
There were gaps in the dreams and aspirations of these young people and the chances of achieving them. These ranged from limited exposure, limited opportunities, low education level, lack of family support, tragedies at home to financial struggles, poor connectivity in off-road villages, caste and gender biases
The Karanjia team realized the need to engage with the youth to bridge those gaps. We got the idea from Yuwashastra programme, a youth programme piloted by PRADAN in Mohgaon block of Mandla district. Taking the learnings from this programme, a similar programme for youth development was initiated in Karanjia block in 2016.
We started discussions in those SHGs that had expressed concern about their children and wanted a meaningful programme to be run for them in the village. The women helped mobilize the youth (between 18 and 30 years of age) of one village. To encourage participation, sports events were conducted for them. This was followed by focused group meetings, to understand what excites them and the issues that were of concern to them. Such group meetings and discussions helped build trust, gave them a platform to share their inner selves and learn about each other. They showed interest in forming such youth groups in the village.
One of the major obstacles we decided to work on was the poor information flow. Young people staying far away from the block or district headquarters did not get information about most of the opportunities available or received this information late. The Village Organizations elected a Yuwa Sakhi, a woman leader, who coordinates with the youth in the village. These Yuwa Sakhis formed a network, to spread information in a timely manner about any new opportunity for or demand of the villagers.
Those who showed interest in becoming a part of this programme were invited to a five-day "Reimagining the Future" workshop. This was designed to help individuals identify their aspirations, strengths, potential, risk-taking ability, career intent and resources available to them for a fulfilling, realistic career. Initially, PRADAN ran this workshop till it standardized the module; then PRADAN trained youth service providers and trainers from the community to conduct these trainings. The workshop is a mix of classroom sessions, games, improvisations, movie screenings, group and individual activities. On the third day, we worked to build an understanding of the larger society they are a part of, which plays a part in the life decisions of the youth; on gender discrimination leading to domestic violence; caste-based discrimination and the existing economic and educational inequalities, among other issues. These five days gave them exposure to a plethora of career choices available in this world and to people and their lifestyles from outside their own village.
Following the workshop, the youth began to voice their aspirations with greater ease and to hold dialogues among themselves and in their peer group about their future. Before this intervention, the most common wish of the girls was to take up tailoring or nursing, and many did not think of a career at all. Boys would limit their choices to farming, running a business or learning basic computer skills. Some of the career choices that emerged after the workshop among girls were acting, farming, setting up a business, law, cosmetology, sports, mechanics, call centre services, medicine, hospitality, painting, higher studies or any good job. For boys some of the choices were house painting, hospitality, photography, tailoring, any government or private job, police, farming, sports and call centre services.
A week after this exploration and narrowing in on their passion, PRADAN conducted career counselling sessions for them and some of the parents. This was to test their aptitude, to lay out career options related to their passion and aptitude, and to help them make informed choices. Career counsellors first underwent a three-day personal counselling training. Some team members and some academics from the community facilitated the sessions.
We saw a pattern emerge in the results of the aptitude test; girls scored higher than the boys in social, artistic and investigative (academic) fields whereas boys scored higher in the enterprising, conventional and realistic (tactile) fields, including as data operators, farmers, and technicians, and in government office jobs. Often, there is a mismatch in their aptitude and passion or between their qualification and passion. In such cases, we discuss their qualifications and the path to follow their passion, and suggest viable options based on their aptitude, giving them the choice to follow both. There were times when the parents did not agree with their children's choice or vice versa. We then held multiple counselling sessions with both parties present and facilitated discussions between them, to reach the best solution.
After an informed choice had been made, we made external linkages with training and placement partner institutes such as The Nudge Foundation in Bangalore and Delhi, and Pratham Arora Centre for Education (PACE) in Bhopal for skill building.