O n a tranquil morning during this year's spring in the Dooars of West Bengal, a meeting of women belonging to three Self-Help Groups supported by DAY-NRLM was going on at the Division Line of Kanthalguri Tea Estate. Members of these SHGs came together and were deliberating on ways to maximize their household income by harnessing their existing resources. Facilitating this meeting was Rituparna Roy, an Executive from the non-profit organization KABIL. I was accompanying Rituparna as an observer to gain insights into KABIL's initiatives with Tea Garden workers and support in developing a Monitoring, Evaluation, and Learning (MEL) framework for their project
The SHG members were sharing their individual aspirations, and among them, Laxmi Oran from the Diya SHG expressed, "I want to pursue a computer course and provide quality education to two of my nephews (sister's children) in a good private school so that they can secure decent jobs." These may not be grand ambitions, yet for most of the tea garden workers in the region, achieving them has never been easy.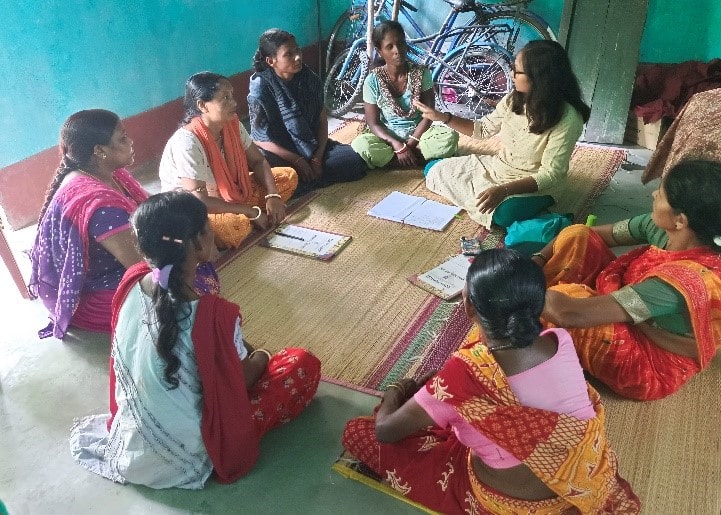 L axmi Oraon, a 25-year-old resident of the Division Line in the Kanthalguri tea estate, hails from a family entrenched in the tea garden milieu. Her mother, Sumitra, was a long-serving employee until her recent retirement, passing the baton to her elder daughter, 30-year-old Bilashi. Bilashi, a mother of two young children, now shoulders the responsibility of the five-member family, earning around Rs. 4,500 to 6,000 every month to sustain them. On the other hand, Laxmi completed her Higher Secondary education and aspired to pursue a computer course from a reputable institution to secure a well-paying job. Laxmi's determination to break the cycle of poverty was evident from her wholehearted commitment to providing her nephews with a quality education, envisioning a future where their financial struggles would be a thing of the past.
Tea Estate Workers of Dooars
I n the vast expanse of the Dooars, encompassing 150 tea estates spread across Jalpaiguri and Alipurduar districts of West Bengal, dwell around one lakh families in the workers' colonies. The majority of these tea garden labourers are Adivasis originating from the Chhotanagpur plateau in Jharkhand. Laxmi's family is among those who trace their roots back to the colonial era when they, along with numerous other families from Chhotanagpur, were brought here under the infamous coolie trade, often through coercion or deceit. Alongside the Adivasis, the tea garden workforce also includes people from Nepali and Rajbanshi communities. These workers reside in compact dwellings provided by the tea garden management within the garden premises, known as "lines," comparable to hamlets in a village. The Division Line, where Laxmi and her family reside, exemplifies this arrangement.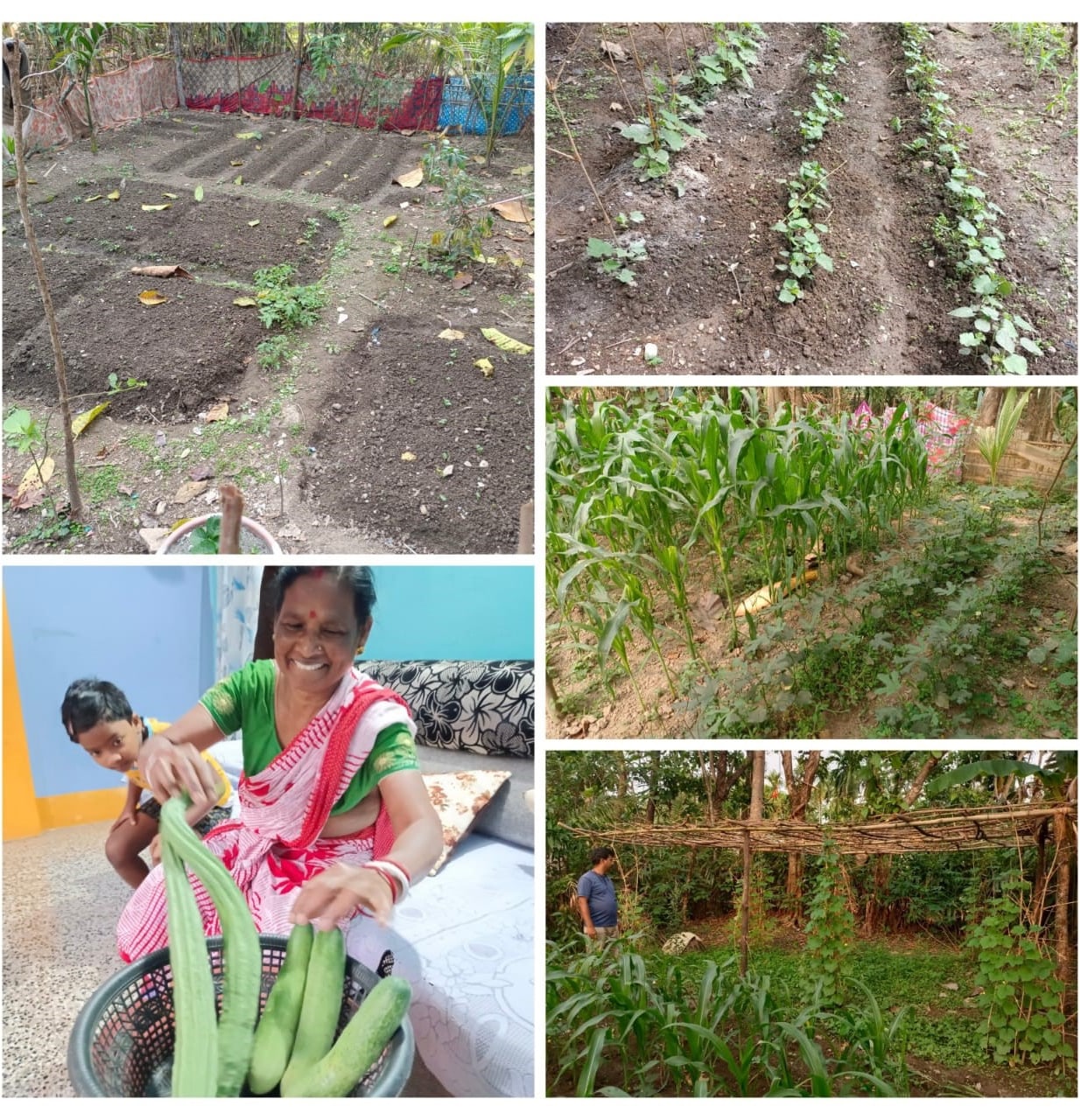 I discovered that each dwelling comes with a small parcel of land, ranging from 400 to 800 square feet, where families grow a variety of trees such as lemon, pomelo, jackfruit, coconut, mango, and areca nut. In some estates, there's a piped water supply to each dwelling, while in others, water collection remains a chore due to lengthy queues and distances from the source. Many families also rear livestock like hens, ducks, goats, and cows. I was told by a Division Line resident that in most of the households, one member is a permanent worker in the tea estate, while one or two others work seasonally during peak demand periods. These permanent workers earn a daily wage of Rs. 232 and are generally employed for 275-290 days per year. Seasonal workers, in contrast, may work a maximum of 200 days, based on the estate's requirements. Consequently, household income rarely surpasses Rs. 10,000 per month, often remaining within Rs. 6,000 (source: "A Study on the Income and Employment Status of Tea Garden Workers in Jalpaiguri District, West Bengal" by Chakraborty and Chandra, 2022).
Tea Garden Conditions
T he frequency of work and ensuing earnings for both permanent and seasonal labourers hinge on the tea garden's condition. Gardens operating profitably offer more wage days and amenities to their workers. However, many tea estates in the Dooars region are struggling.
In West Bengal, the criteria for labelling a tea garden as "sick" are governed by the Plantation Labour Act of 1951 and the Sick Industrial Companies (Special Provisions) Act of 1985. Gardens can be deemed sick due to financial losses, non-payment of wages, or non-payment of provident funds.
Dooars tea primarily originates from the Camellia sinensis var. assamica tea plant, known for its larger leaves commonly used in Assam tea production. A viable tea estate in the Dooars region should yield at least 2,000 kg/ha. According to a 2013 survey of tea gardens by the Joint Labour Commissioner of North Bengal, only 40 out of 150 estates achieved or exceeded this yield. Ageing plantations have contributed to a decline in average yields over time.
Can the Situation Change?
R ituparna reflected, "The well-being of tea garden workers is intrinsically linked to the garden's status. Even in sick gardens, avenues exist to augment household income. At KABIL, we've devised strategies to boost the earnings of workers' families, leveraging the resources at hand." Rituparna, along with two of her colleagues from KABIL, Soumyadeep Bhowmik and Sudip Ghosh, collaborated with women-led SHGs, nurtured by DAY-NRLM, in three tea gardens within Dooars' Banarhat block. After careful scrutiny and consultations with government officials, tea garden administrators, and workers, KABIL came up with initiatives that enhance tea garden workers' income, leveraging their limited resource pool. These initiatives are being piloted in collaboration with government departments.
Harnessing the resources at hand, KABIL has devised a range of feasible activities tailored to the context of the Tea gardens. These activities involve the excavation of small pits (10'x10'x5') on land adjacent to homes, funded through MGNREGS-supported Individual Beneficiary Schemes. Given the size of their homesteads, these pits can be easily dug on their land. This pit excavation serves a dual function. These pits are designed to retain water for at least six to seven months, if not longer, after the rainy season begins, enabling the residents to undertake fish farming. Additionally, the excavated soil from these pits is utilized to mound the areca nut trees, providing nourishment. After mounding, a black pepper seedling is planted around each areca nut tree. Furthermore, kitchen gardens are established in available homestead areas, irrigated using household wastewater from activities such as washing and bathing. Additionally, the package includes livestock vaccination and the creation of vermicompost units for kitchen gardens or sale. Although not all activities are universally applicable to every household, partial implementation based on available resources is feasible. Rituparna estimated that families could potentially earn an additional Rs. 25,000 annually through these initiatives.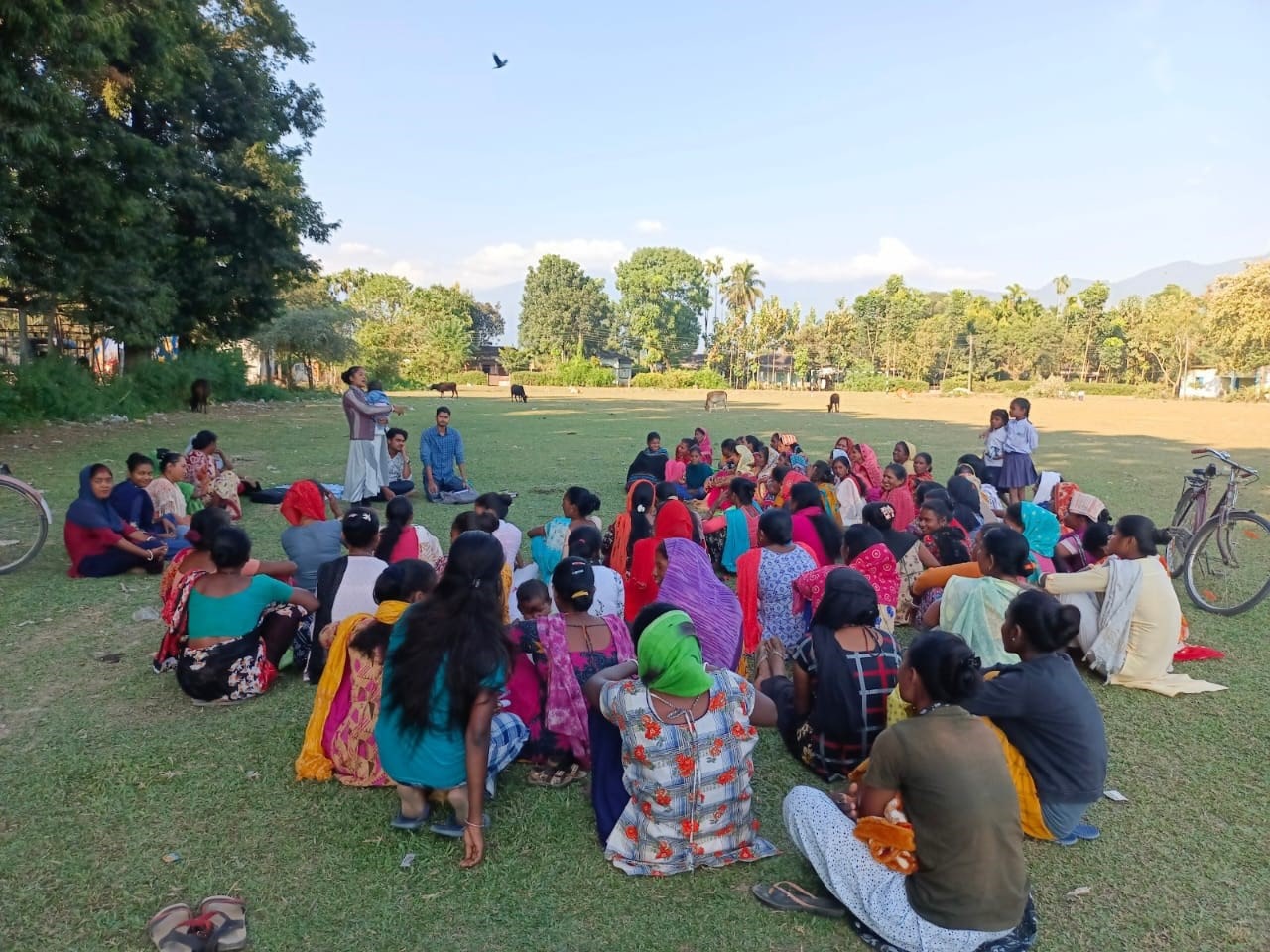 I could sense a mix of excitement and astonishment within me. When I initially listened to the villagers discussing their existing resources and sources of livelihood, I struggled to envision any viable means of increasing their income with their limited resources. However, within just six months of their exploration, KABIL managed to develop concrete solutions to help tea garden workers enhance their income, which I found truly remarkable.
A Ray of Hope for Many
W ith 500 square feet of land attached to their dwelling, Laxmi's family have eight areca nut trees. With KABIL's support, they have transformed this space into a kitchen garden, growing cucumber, pumpkin, ridge gourd, bitter gourd, tomato, chili, and okra. They have also excavated an 11'x10'x5' pit, which has retained rainwater and is stocked with fingerlings of Tilapia, Singhi, and Pangas fish species. Additionally, they have planted 27 black pepper creepers around the areca nut trees, using the excavated soil from the pit to mound them. Laxmi anticipates a minimum return of Rs. 1000 per creeper after three years.
In Chamurchi Tea Estate, 38-year-old Sukmania Nagasia resides with her spouse Hiralal and their daughter studying in ninth-grade. Hiralal occasionally undertakes labour work in Bhutan, earning around Rs. 10,000 annually. Sukmania, a permanent tea garden worker, has around 80 areca nut trees in her yard. With KABIL's guidance, a water harvesting pit has been dug, and 33 areca nut trees have been nourished, followed by the planting of 33 black pepper creepers.
Ilisaba Kujur, another permanent worker in Surendranagar Tea Estate and a member of the Saheli SHG in her mid-fifties possesses approximately 45 areca nut trees. A pit has been excavated on her land, nourishing all areca nut trees and the plantation of 45 black pepper creepers. Although the pond remains dry for now, there's potential for future use.
In its inaugural year in Banarhat, KABIL has extended these activities to around 500 families. Collaborating with government departments, they're leveraging resources for these initiatives. KABIL's systematic intervention illustrates potential transformation, providing tea garden workers' families with supplementary income opportunities through their existing resources, and fostering hope for a brighter future. I am looking forward to gaining meaningful insights from the experience of KABIL.
I extend my gratitude to Rituparna Roy, Sudip Ghosh, and Soumyadeep Bhowmik for their valuable contributions in providing relevant information for the article.