T he group activities resumed and the number of active groups in the area increased from two to twenty-nine within six months. Seeing the exponential increase in the number of groups, Rekha felt nervous about how all the groups would continue to work as well as affiliate themselves once again with the Sangha. It was my mission to encourage her not to give up, to stimulate her capacity, to keep her engaged and offer some ideas that she could take forward. She had an inherent understanding of the particular problems they faced in the village and had the ability to plan for the group.
When her own hamlet was saturated with diverse livelihood activities, Rekha extended her advocacy to other groups and shared her experiences and ideas with 91 women SHGs of her GP within the next year.
By 2018, Rekha succeeded in forming several groups in the village. Collectively, the groups wanted to form a Federation, only they were unclear and unsure how to go about forming it. Rekha called me and said, "Didi, where are you? We want to know the process of creating a Federation." By then, I too was aware that engaging the women in discussions and dialogue is one of the key factors that help stimulate their minds. We had many conversations on this issue of forming a Federation.
Despite some hesitation and fear, Rekha went to the block office and expressed her group's intention to form an Upa-Sangha in their area. They approached the Women Development Officer (WDO) of the block. The WDO was aware of the situation and was looking for a solution to rejuvenate the SHG movement in the GP area. She welcomed Rekha's suggestions and asked her to go ahead with the plans to form Upa-Sanghas and informed Rekha that when five of these Upa-Sanghas are formed, she would visit the field.
Rekha took up the challenge, came back to her village and started visiting the adjoining ward areas on her bicycle. She moved from pillar to post and motivated women and their groups to federate. Within a month's time, five Upa-Sanghas were formed and she went back to the WDO. Rekha invited the WDO to the field now that five Upa-Sanghas in five wards of the GP had been formed.
The Block Programme Management Unit (BPMU) official was thoroughly impressed with Rekha's performance and appreciated her efforts. This encouraged her; she further facilitated the formation of five more Upa-Sanghas in another month. She went to the block office for the third time and expressed her interest in reviving the next level of the Federation--the Sangha. Thus, 'Rudra Saradamani Sangha' became operational again. Eventually, the Sangha was turned into a Primary Cooperative Society (Rudra Women SHG Saradamoni Bahumukhi Sangha Primary Cooperative Society Limited), comprising 100 women SHGs. Rekha Majhi was nominated the first Sangha President.
Rekha's journey is a shining example of perseverance and confidence. Hers is a stellar model of how with determination and focus, one can lift oneself out of the most vulnerable circumstances and become an agent of social change. During my engagement with Rekha Majhi, I witnessed her perceptiveness, her confidence and her belief in her own ability
PRADAN organized an exposure visit on improved agriculture practice. Rekha took part in the exposure visit programme to a village growing multiple crops. Coming back, I organised a post-visit meeting, to consolidate their learning through a comparative study. After that the women started following an improved package of practices in tomato cultivation and developed nine rain shelters on land belonging to nine individual women. Each trellis had 100 plants. The women sold tomatoes worth Rs 15,000 per trellis in the monsoon season of 2018. After harvesting tomatoes, they cultivated bitter gourd and brinjal on the same land, which was sold in the market. Additionally, they produced mustard and potatoes, mostly for personal consumption. Seeing the success of these activities, Rekha motivated other women to take up similar activities.
The leadership skills demonstrated by Rekha was well-appreciated by the block and the GP. During the peak days of implementation of the Swachh Bharat Mission, the local panchayat asked her to be involved in promoting sanitation. She was told that she could have become a Community Service Provider (CSP) had she fulfilled the minimum qualification of having passed the 10th standard. Not the one to be deterred, Rekha took up the challenge and joined an open school. She used to go to the open school every Sunday. Her family was quite supportive and she studied early in the morning. She appeared and passed the Madhyamik examination within a year and became a CSP. She resigned from the position of Sangha president and became a Block Level Trainer (BLT). She then enrolled for Higher Secondary Education and completed it successfully in 2019. The Block Livelihoods Mission authorities requested her to join as Sangha Coordinator (SC); she then gave up her position as CSP and BLT member. Currently, as SC, she is now handling all the financial matters of the Sangha, including looking after compliances and audits.
The accounts of the Sanghas are maintained using a computerized system. Rekha underwent a computer training course and is now adept in using MS Excel and Word and has learned how to send emails.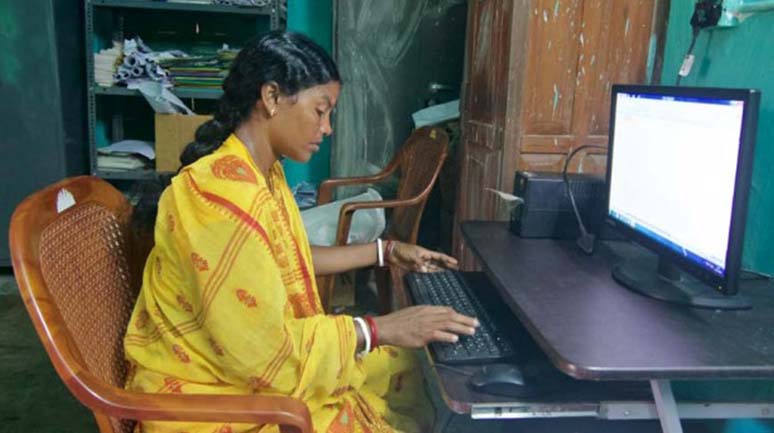 O n the personal front, Rekha took a loan of Rs 1.50 lakhs from her home group and set up a poultry farm, where she started working with her husband. In addition to the loan, she invested another Rs 50,000 from her own savings in the poultry farm. She repaid the loan within a year. The farm has 2,000 birds during winter and 1,800 during summer. With their earnings, the couple purchased insurance policies. Both their sons are pursuing their education. The eldest son is 20 years old and is studying in Ranibandh Industrial Training Institute. Rekha also owns a smartphone and has purchased a motorcycle.
Rekha's journey is a shining example of perseverance and confidence. Hers is a stellar model of how with determination and focus, one can lift oneself out of the most vulnerable circumstances and become an agent of social change. During my engagement with Rekha Majhi, I witnessed her perceptiveness, her confidence and her belief in her own ability. Her association with the National Rural Livelihood Mission (even going back to the formal schooling system to qualify for an NRLM position) is astounding proof of her capabilities and doggedness. An epitome of determination and hard work, Rekha Majhi continues to be a constant source of inspiration not just to women in the villages but also to women of all strata of society.
As a Development Practitioner, it is fulfilling for me to have been instrumental in contributing to Rekha's growth and witness her blossoming to her full potential. Her journey is inspiring and encourages me to believe that such a change is possible. It gives me hope that our work at the grass roots can lead to transformative change in the lives of women. This is not a story of just about one Rekha but many Rekhas, who have challenged many boundaries and have worked tiringly to create a more equal space for themselves and their sisters.