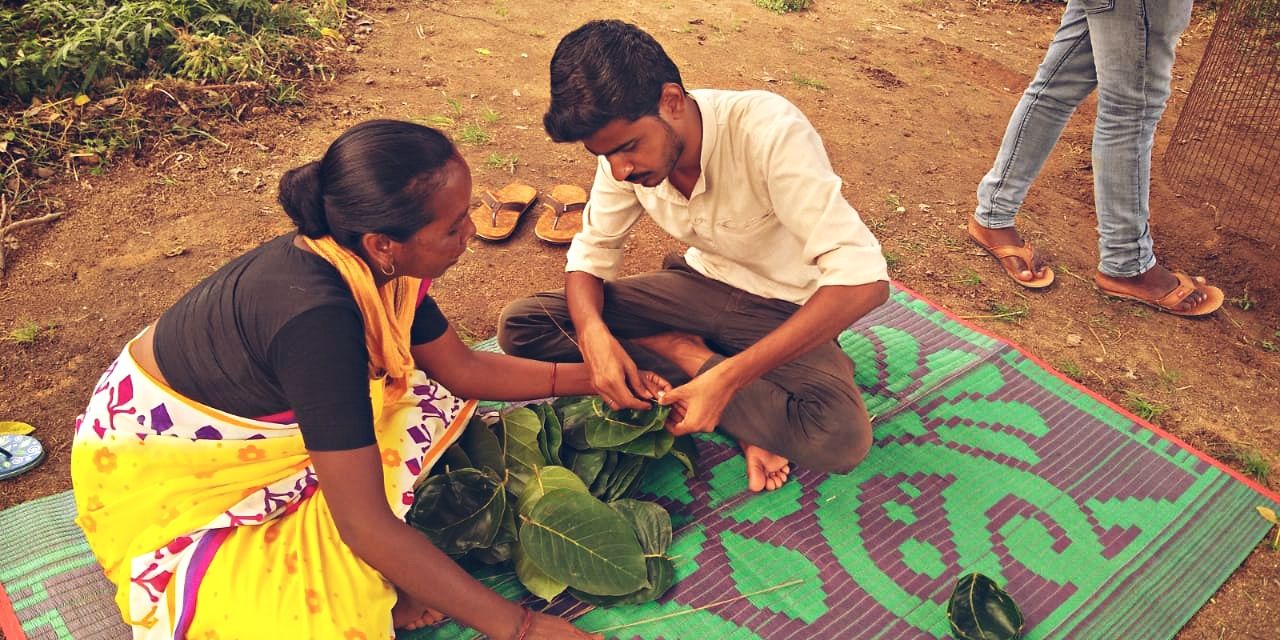 Understanding and accepting customs and culture
Initially, the culture of the community I was working with, was new and struck me as somewhat strange. The villagers consumed different kinds of meat, and drinking alcohol was common during celebrations and social gatherings. Men, women, elders all drink together. I was not used to such a culture. I had been brought up with the belief that alcohol is not good; however, here I saw that alcohol was not a taboo. People prepared alcohol in their homes, and drank and celebrated openly.
I also observed another interesting custom when I was there. After a meal, I saw the members of my host family wash their hands in their plates. One day, when I asked them why they did this, they said this is their custom and that every family does the same. I was not convinced and I did not like it. I thought it was a practice that needs to be changed.
While I reflected on this practice one day, a memory of mine surfaced. When I was a little child, I was invited to a Brahmin Bhoj (a feast for Brahmins). The host family washed my feet on a plate and, later, had their meal from the same plate. And nobody, including me, ever questioned this custom because we had been told that is our culture. How then is the culture of these villagers wrong? Is it right to wash one's hands or feet on a plate? No, of course not. These are ancient customs that perpetrate and continue the hierarchy of caste. Nevertheless, just because a custom is ancient, it does not have to be right or worth continuing. This thought compelled me to question the customs of my own culture, particularly the Brahmin Bhoj. By participating in the custom, I had unknowingly perpetuated the age-old, caste-based hierarchy.
However, all customs cannot be judged as wrong. Some practices are worth continuing and are valuable and some practices need to be changed. The important part is to question customs and arrive at the reason for carrying on with them through the ages. This episode gave me a perspective of their culture and made me realize that another society can live with entirely different values and culture and still function independently without perpetrating hatred towards each other.
Each and every community has some customs and practices that seems strange at first and are actually unique and beautiful. We may just take some time to realize their uniqueness. For example, I was always uncomfortable eating the small fish caught from the flooded paddy fields as their eyes remained wide open even after they are cooked. I had never eaten a fish like this. It felt that I am eating a live fish. Earlier, I used to complain to my team members that I had to eat such food in the village. Now that I find I am an integral part of this community, I have a sense of acceptance of their customs and their different food habits. I can eat snails too now! All I say is, "Arre, protein hota hai isme (Hey, this is full of protein!)."
Let's dig a pit: Learning by doing
If I were to define my 'Learning by Doing' phase of DA-ship, I must elaborate through the use of the following example:
Q: Melody itni chocolatey kyo hai (Why is Melody so chocolatey?)?
A: Khao or khud jaan jao (Taste it and find out for yourself).
The villagers were engaged in mango plantation under the MGNREGA work. I was informed that on an average one person digs two pits per day. I thought that was too little for a day's work. In my estimate, one person could dig at least five pits in one day. On my team's suggestion, I started digging a pit myself, to check how much effort it takes. I could barely dig a pit 2.5 ft deep. I was completely exhausted and took a break. This incident and my subsequent realization changed my approach of engagement in different activities. I decided that to understand the effort an activity takes, I would do it physically myself to understand what it entails. I set out to learn by doing in all my activities, whether it is land preparation, paddy transplantation, jeevamrit formation, plantation layout, pit digging and filling, preparing a tomato nursery, SHG audit, teaching in a school or any other activity.
As an Agriculture Engineer, I have prepared the land for cultivation multiple times using a tractor-driven rotavator and leveller. When I tried to do the very same process manually with a pair of bullocks, I couldn't stop laughing because the bulls' tails spattered mud drops all over me. I was completely covered with mud within half-an-hour. I remember how I used to do puddling and levelling with a tractor; now, I did it with bullocks and it serves the same purpose. For my exams, I used to calculate the depth a plough would penetrate; here, I didn't have to do any calculations because my feet went deep into the mud and I could feel it for myself. I did not need a pen and paper because I was personally experiencing it because I was not using a diesel engine or machine. It was not a diesel engine that produced the power to level the field; it was me and those two beautiful creatures.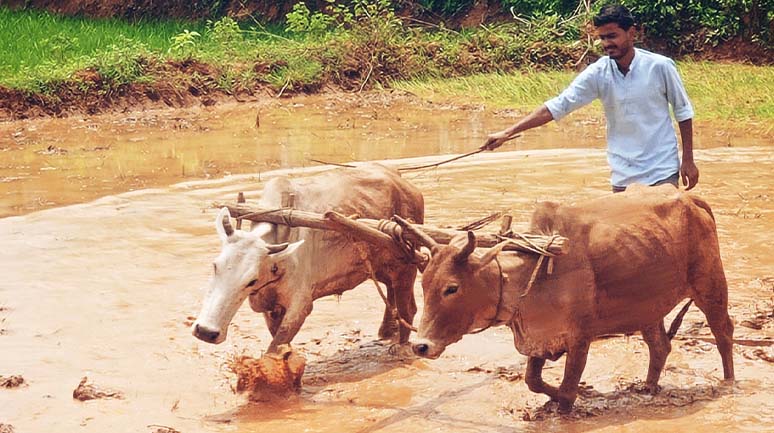 Many of us have seen a potter at work; yet, very few of us know how he does it. I saw a potter in the village making mud pots with accuracy and precision. I decided to give it a try. I put my hands on the potter's wheel and distorted the shape multiple times before I suddenly got it right. Honestly, I was in seventh heaven! On conversing with the potter, I felt remorse that despite being skilled in making pots for a livelihood, he, and others like him, did not earn enough to survive.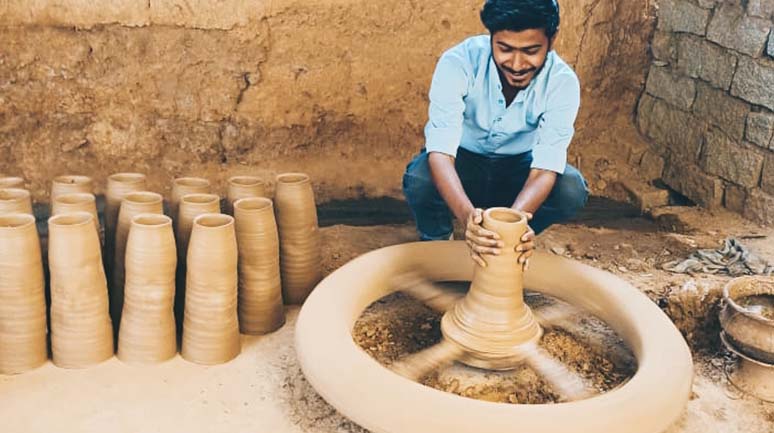 "You won't really understand how it's done until you do it yourself," is my motto now. Earlier, I would close my eyes if I had to witness a goat being castrated. Now, I think, I actually need to open my eyes and see how it is done so that I understand why they do what they are doing and how it's done. How will it impact the nature and the quality of meat of that animal? Should the goat be castrated with a blade or with a burdizzo tool? I realized that I needed to arrive at an understanding as to method is better, more hygienic. Before I prescribe it to someone, I should know why I am prescribing a particular method or tool, and why a male buck needs to be castrated.
Given a choice of receiving a gift of Rs 5000 or spending five days in the field for development work, I will certainly choose the latter. Five days spent in the field will have a long-lasting impact on me. As a young professional, the insights and learning from my field visits help me to be practical and grounded. I think that those who are in the development sector should spend time learning by doing.
Blending traditional practices and modern techniques
Cereals and pulse crops are always under high risk of bird attack. Birds inflict losses by damaging crops during the sowing, the seedling and the ripening stages, leading to considerable economic loss. Guided by our master trainer, we tried to make a crop protector using plastic bottles, a steel plate, iron nails and a wooden stick. Although it was not very pleasing aesthetically, it worked properly. The crops protector is more helpful during the ripening stage than in the initial period. In Jharkhand, the villagers intentionally set up a perch—a five-foot wooden stick in the paddy fields—to invite birds that feed on harmful insects.
In Haryana and the Punjab, various insecticides and pesticides are applied through flood water irrigation in the paddy fields. In Jharkhand, however, during the Karma festival, the villagers place a stick of the byelaw plant, which releases some liquid into the irrigation water and kills the insects. It was eye-opening for me that the community had its own traditional solutions to some of the major problems it faced. The beauty of these agricultural practices is that they evoke a sense of belonging to their roots in the villagers.
Transforming lives
What is the meaning of changing lives? Is changing one life called a change or an initiation towards change? Am I changing their lives or my own? Or maybe both? I never really understood the concept of changing, or transforming, lives or such words until I sensed that change within me. Would conducting awareness events in schools on career options impact the students? If not, for who am I doing this? For me? I started observing that it is a two-way change: I try to change the lives of the villagers and find that I am changing in the process. The acceptance of their culture, their life style, their beliefs and their happiness in the small things in their lives have become a part of me.
I now understand how the SRI method of paddy cultivation will impact a particular family and how the weekly savings of Rs 10 in the SHGs can support the family and aid their livelihoods.