Rashmi got married when she was barely 17. There was a lot of excitement among her family members, in-laws, neighbours and relatives to see her as a new bride. Rashmi was assured that she would continue with her education even after marriage. A year went by and she gave birth to a baby daughter and along with that came new responsibilities of nursing, bathing, and all that a new-born needs. By the time Rashmi was 20, she was a mother of two children. Her life started revolving around regular household chores and her two young kids. Continuing with her studies faded like the morning star.
Still, Rashmi was happy. Each time her toddlers giggled and she cajoled them, the world around her, in Senguda village of Dindori district in Madhya Pradesh, looked beautiful. In fact, her husband and the kids became her own and whole world. But this happiness was destined to be short-lived.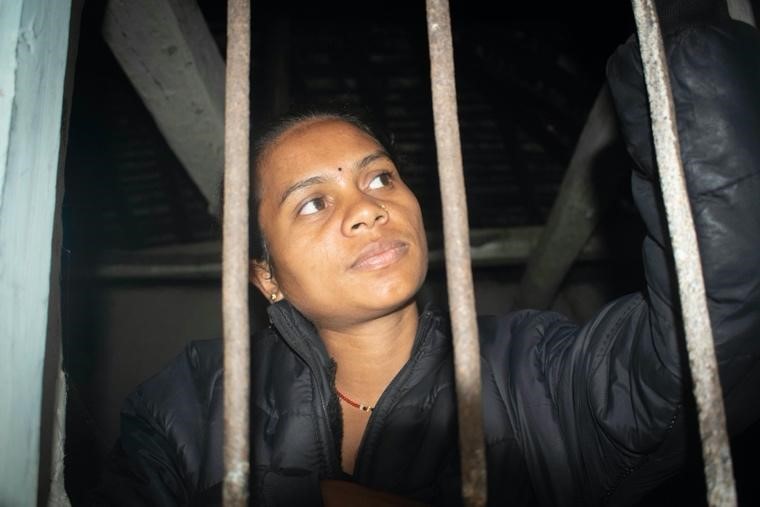 "My husband, Dinesh, would never pay any attention to the family. He would remain aloof and would get irritated if I would ask for anything from him. We were living under the same roof, but would barely talk to each other."
She would work as a daily wage-labor in agricultural plots and collect tendu leaves from forests in order to earn her own money. But the income was so meagre that at times she wouldn't have even Rs. 50 saving, to visit her maternal place. She wasn't left with any alternative but to ask Dinesh for the money which meant a compromise of her self-respect – something that Rashmi would never accept.
Struggling to make her ends meet, Rashmi dreamt of doing something fulfilling and dignified. She joined the Jagriti Self Help Group (SHG) in 2015. For the first time ever, Rashmi stepped out of her regular boundaries. Bank, DAY-NRLM offices became her new destinations and she aspired to become the book-keeper and the Sachiv (Secretary) of her SHG. In 2018, she attended several agriculture trainings organised by PRADAN, and, slowly but steadily evolved to be an expert in this domain. By 2021, Rashmi had engaged and motivated 150 farmers from several villages to grow vegetables.
A flurry of events followed that dramatically changed Rashmi's life. She didn't restrict herself to just knowledge dissemination and trainings. She went on to demonstrate what these workshops were promoting, by growing cowpeas on her 0.07 acre land. She earned Rs. 6,000. On any homestead land, people usually grow maize meant for their own consumption. But when they saw that from such a small piece of land a woman farmer earned Rs. 6000, they believed in Rashmi. By following Rashmi's footsteps, Tulsi bai earned Rs. 11,000 the next season. This changed the game. The following year 65 farmers used their homestead land for commercial farming. In 2020 when lockdown plagued lives of every individual across the length and breadth of the country, Rashmi was seen helping 150 farmers grow cash-remunerative crops and most of them earned Rs. 12,000 to 15,000. Seeing Rashmi's enthusiasm, the panchayat functionaries approached her to work as a mate in one of the MGNREGA sites.
"I could never imagine that a day would come when the Panchayat would show this much faith in my abilities. You can say it doubled my confidence. I worked at two farm ponds, seven land bunding and five land leveling activities. No other woman of this Senguda village had ever supervised 14 MGNREGA work sites simultaneously."
As Rashmi was learning to fly, life tried to crush her wings again. Dinesh passed away. True her husband wasn't the ideal companion she had thought of, but the pain was unbearable for her, she couldn't sleep for two months.
"The very thought that now I am completely alone and raising my kids is my soul responsibility was haunting me every day, and night. But, simultaneously my responsibilities towards 12 files that I had submitted for land and water management activities before Dinesh's death overpowered the sense of void. I stepped out of that dark room, and headed towards the Panchayat office with the official papers in my hands. It was time to get back to work."
Rashmi was selected as a social auditor for the entire Karanjia block in February 2021. In the selection test, she scored 71 out of 100, the highest among 92 participants in the selection. She has completed the audit of 14 Panchayats so far till March 2022.
"Rashmi's team picks up and communicates even the smallest details from our Panchayat to the Gram Sabha. We want anyone but Rashmi's team to audit us" a common sharing by almost all the 42 panchayat duty bearers about Rashmi Dhurvey. She says, "But I feel empowered after hearing about this fear because people will remember me for my knowledge, honesty and bravery." She has also influenced many more women to participate in the Gram Sabhas.