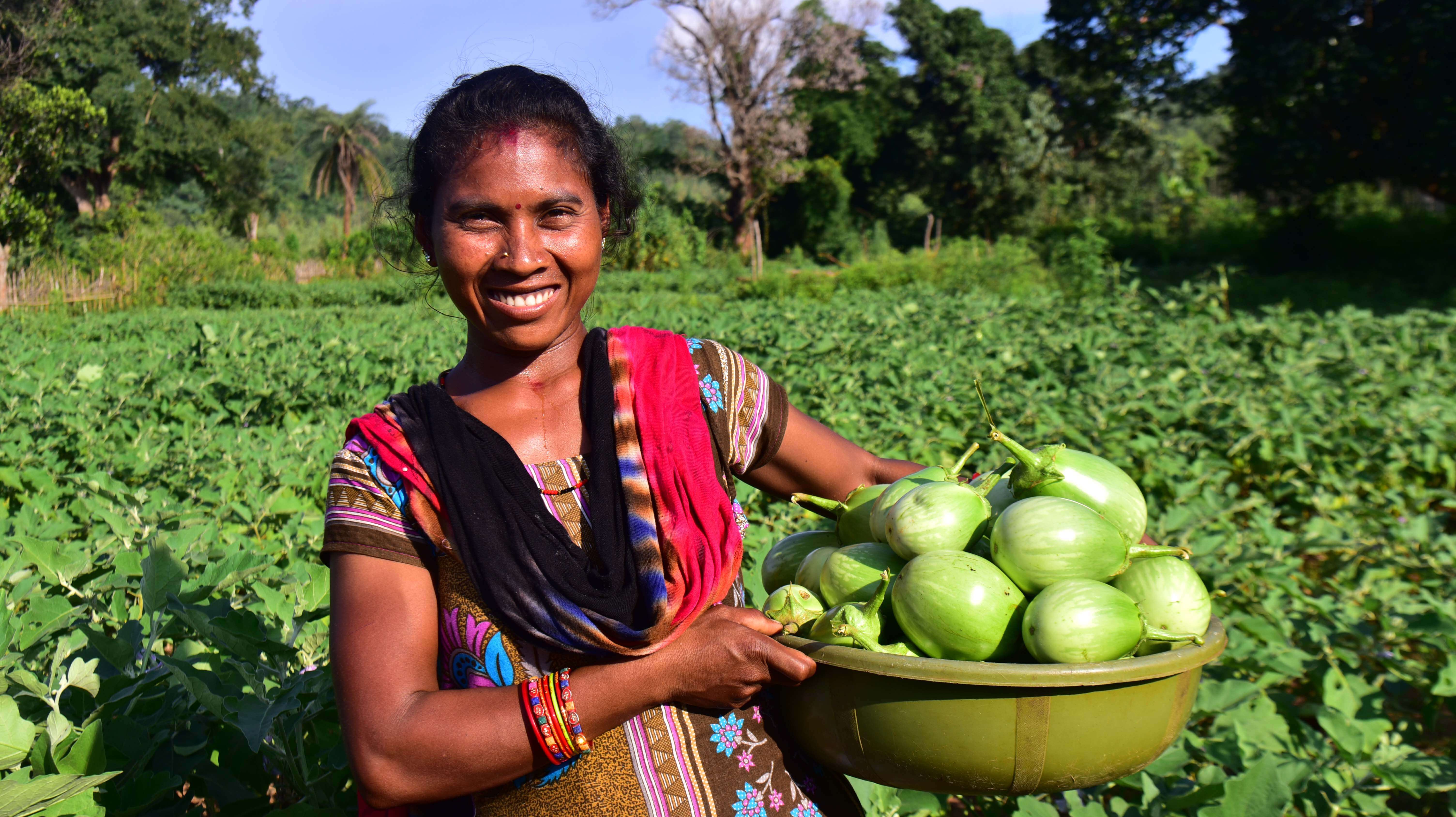 Nipped in the bud
One room, seven members in that – sleeping, eating, chatting – all there. Eating was less, especially during the months when their own crops would finish and there won't be enough money to buy food. Muni Heprika, a woman belonging to the Kandha tribe from Karagadi village of Kolnara block in Rayagada district of Odisha, was brought up like this. And therefore, right after her matriculation, despite her interest in studies, she was forced to engage in agriculture and construction work as a daily wage labour. Her desire to educate herself and get established in life, was nipped in the bud, since earning for the family was the priority. Working as a wage labourer meant an income of INR 2000-3000 a month to top up what the rest of the family earnt.
INR 167 - her monthly income
Muni was married off when she was 25, into a household consisting of nine members. The situation was not much different here either. The challenge was to provide food for all from four acres of land – their only possession. They used to grow paddy, finger millet, and sunflower for their own consumption, and cotton for cash income and earn INR 20,000 in a year.
INR 20,000 a year! Well, for a family size of nine it meant a little more than INR 2,000 for a year, rather INR 167 a month, for every member. What would one exactly do with that amount? Buy food? Buy medicines? Buy snacks? Spend on education? Repair the roof that was leaking each time it rained since last monsoon? An income of INR 20,000 by selling their cotton was clearly insufficient to meet all the household expenses. It was only in 2011 that Muni joined a SHG and started saving little amounts every week, and when there would be a pressing need at home, she would borrow some money from the SHG savings-box. Paying back, even at a bare minimum interest, seemed a crushing burden quite often.
While Muni continued with her struggles to make both ends meet, from her SHG meetings she started learning about a few pathbreaking changes that some of the smallholder farmers, like Muni, from nearby villages, had started experiencing. Concerted efforts towards synchronised vegetable cultivation, as per market demand held the key for a paradigm shift in the way farmers like Muni used to think about farming before.
"At first I didn't believe what they were saying. None of us did in fact. It's only when I went to those villages, and saw all of it myself, it started sinking in. I took my husband and a few of my group members also along with me. There we saw that with just a little planning, and some knowledge about how the market functions, those farmers had started earning any amount between INR 70,000 – 80,000 from each acre of land. When we looked at ourselves, we found that it's mainly because of the lack of knowledge and assurance of marketing that we could never think of investing in vegetable farming", reminisces Muni.
Winds of Change – Project LEAP
What Muni took a little longer to realise is that times had changed and a new project called LEAP was providing all the supportive environment that a smallholder farmer needed – right from preparing their lands to selling the crops. Muni joined Maa Gangeidevi producer group (PG) in 2021 which was a part of the Mahila Pragati Farmer Producers Company Limited, promoted under the LEAP project, to grow brinjals in the upcoming monsoon. Given the assurance of marketing of the produce. While her in-laws and the community members at large were still not very optimistic about starting a new crop, Muni, through a series of community meetings, and sharing the assurance received from the FPO regarding the marketing of the produce, managed to convince a few non-believers.
For a beginning, Muni decided to use only 0.75 acre of their four-acre arable land to experiment with brinjal farming. Members of the FPO assured her of selling the entire produce.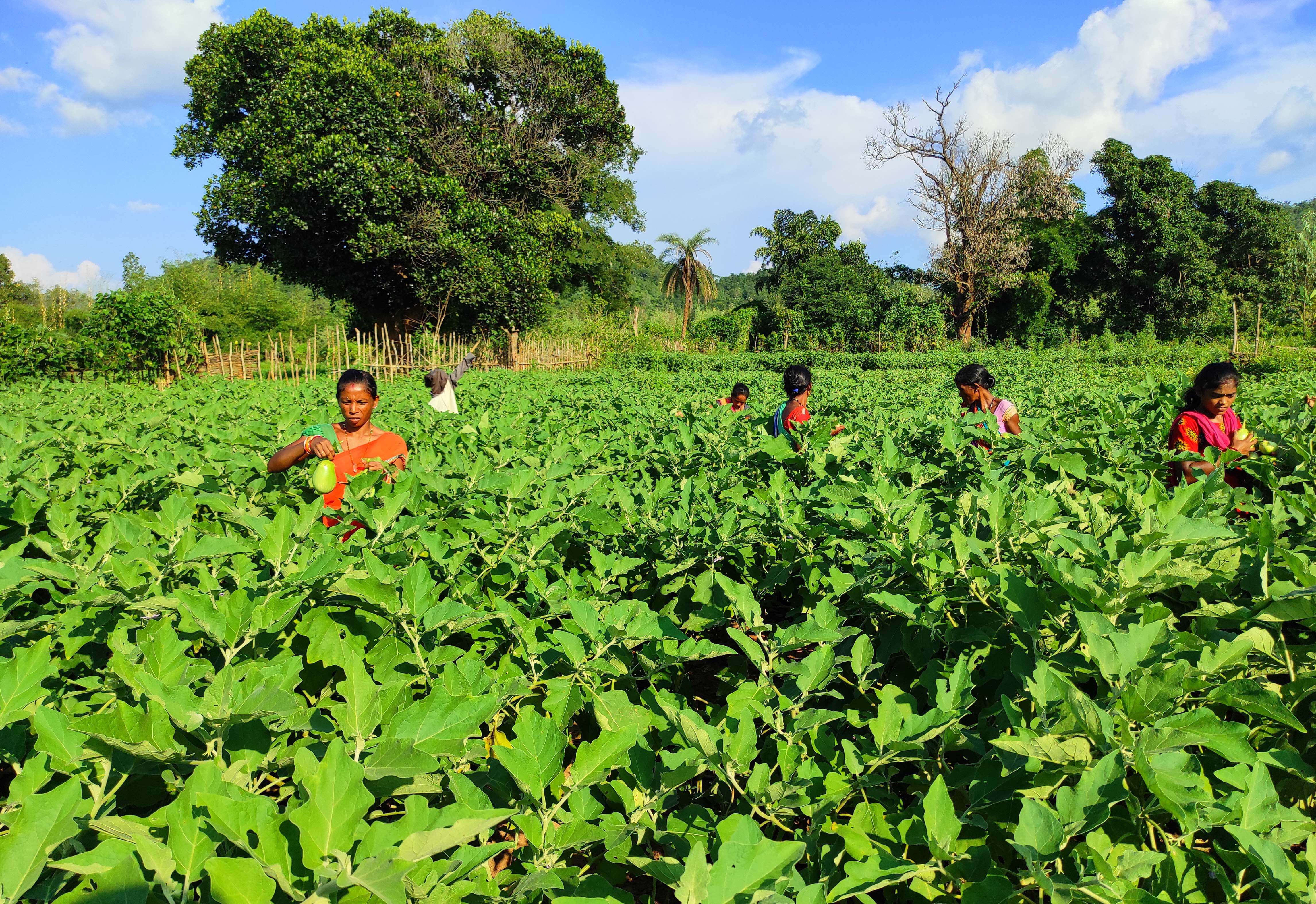 "I had a sense that I am going to succeed with their help. They had already started arranging various trainings, on nursery raising, crop care, how to protect crops from pest-attacks (IPM or Integrated Pest Management) and organic medicine preparation conducted under the LEAP project. Without the support from the FPO, it would never have been possible for me to plunge into brinjal cultivation", says Muni gratefully.
It was a six-week waiting period, which Muni utilised to take care of each and every plant she had sown. The field turned lush green, then light-violet flowers bloomed, and then came lustrous and healthy fruits – the brinjals. Muni's hard work had borne fruit!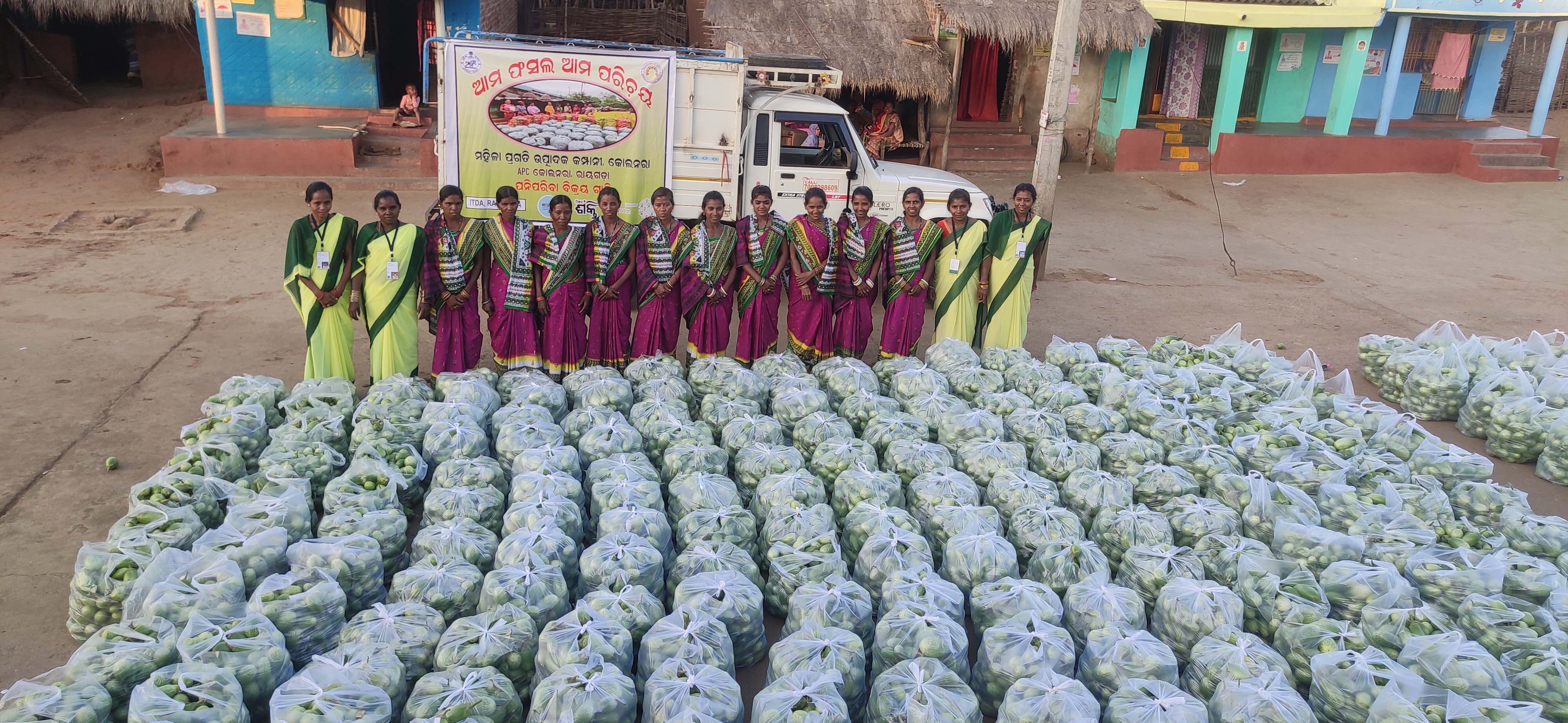 Progressing Together
Muni sold eight-tonnes of brinjal by 31st March 2022 and earned INR 122,914. The FPO provided all quality inputs for Muni's brinjal farm, and gave her support with marketing services at the door step with a full guarantee of payment. The collective marketing system helped her to sell her entire produce. Earlier, her family could manage INR 167 on an average for every member per month, and now it is Rs. 1137 per member a month – a seven times increase almost! It gave her the much-desired self-confidence, recognition and acceptance in her family and in the community as well. The persons who were opposing Muni Didi have changed their minds and have accepted vegetable (brinjal) cultivation whole heartedly. Muni was all smiles after the cultivation season, as she had brought about a remarkable change in the field of agriculture as well as in the thought process of the community. She not only managed all the household expenses from this income but has also saved some for her child's education. Her status and decision-making power in her family are greatly enhanced; her ideas and vision are positively accepted in the community.
Looking at the interest of the villagers, other programs like APC (Agriculture Production Cluster) project by the Government of Odisha, Mission Jibila (Integrated Tribal Development Agency) also extended their support for agricultural inputs and farm mechanization and have tried to build a market-led synchronised farming system with doorstep input delivery and marketing by the Mahila Pragati Farmer Producers Company Limited.
In 2021 monsoon, only four acres of vegetable was cultivated in Karagadi village and all the participating farmers sold 33 tonnes of brinjal in total, and earned INR 642,000. This monsoon, almost 20 acres of agriculture land is turning green – with small sprouts of brinjal saplings. Wishing them all the best for a bumper crop. We just met another leader at ground zero, whose self-confidence and ability to transform a dream into reality not only changed her own life, but catalysed the change in lives of nine other smallholder farmers.
"It gives me goose bumps to see the change that my efforts brought in lives of other farmers. Just a year ago, I was a learner, this year I am in a position to teach others and help them increase their incomes, ten times!" shares a confident Muni.