"Talk to me when you will be able to erase all our miseries. Else tie your wisdom in your sari and go away", he shouted.
'It was time to do something more concrete for the family and villagers', she thought, 'One step at a time.'
Bakhul village in the Serai Tehsil was infamous for its alcoholism. A large percentage of the expenditure of poor families was done by men on liquor. This chronic alcoholism reflected in the increase in incidence of domestic violence.
When PRADAN started working in this village a few years back through Self Help Groups (SHGs), the very essence of saving for emergency and virtuous investment on future was lost because most of the savings were frittered on alcohol. The SHGs wanted to break this vicious cycle. For Manmati, this would be a way out from mindless unproductive expenses of their hard earned money and a chance to invest in her children's future. As PRADAN worked with the collectives, it grew in strength. A three day workshop at the block on gender justice triggered an agency to strive for equality in their homes and village. The women wanted to take some concrete steps. Voices were murmuring on the need to check alcohol addiction. A meeting of all SHGs was called.
Unheard of before in these villages, the women began to confront their husbands.
The men reacted with indignation, mockery or outright physical abuse.
"Talk to me when things change. Move us out of all the misery. I will stop drinking then. Else tie your wisdom in your sari and take it to your group", her husband, Birju Singh, shouted.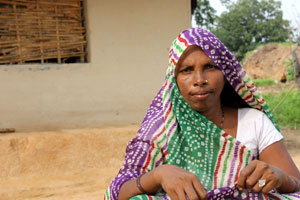 Manmati Singh was unperturbed. There was indeed a lot that needed to be changed in the village and now their SHGs had to take a call. The SHGs decided to bell the cat- in fact the biggest cat in entire Panchayat. The Public Distribution System (PDS) dealer was corrupt, foul mouthed and powerful: feared by everyone in Bakhul.
SHGs in the village rallied together: applications were filed, complaints were lodged and Manmati led a verbal confrontation at the block office which started a chain reaction. Within a matter of weeks, the dealer was removed. With a vigilant citizenry, the PDS shop now opens regularly and is transparent in its dealing.
Simultaneously, these SHG women were leaving bigger impacts in terms of enhancing incomes and prosperous livelihood alternatives. Intervention in agriculture by PRADAN through their SHGs led to greater food security. Over a period of time, other changes became more visible. As the corpus of the saving pool grew, dependency on money lenders alleviated for all small and medium term emergency credit. Birju had been a mute spectator to all these phenomenal changes right under his nose. Experiential change, they say, is more resolute and permanent and there was a change in Birju's heart.
With increased confidence, women in this village started asserting themselves in public arenas. And with new found technical skills in agriculture, they are now pivotal players in the livelihoods of their families. Consequently, there has been a marked change in the attitude of men in the village. Spending on alcohol has come down markedly. Most men now drink responsibly, on festivals or family ceremonies. Domestic violence in the form of physical beating, which was a norm, has subsided.
Birju was true to his words- 'The groups have changed this village, so I tried quitting. But it was impossible. My body was not used to it. After many hidden sips, I quit. My head is not heavy now and I feel physically invigorated. I will never touch alcohol in my life"
And in a corner, Manmati sits staring at something in the distant horizon: smile radiating on her face.