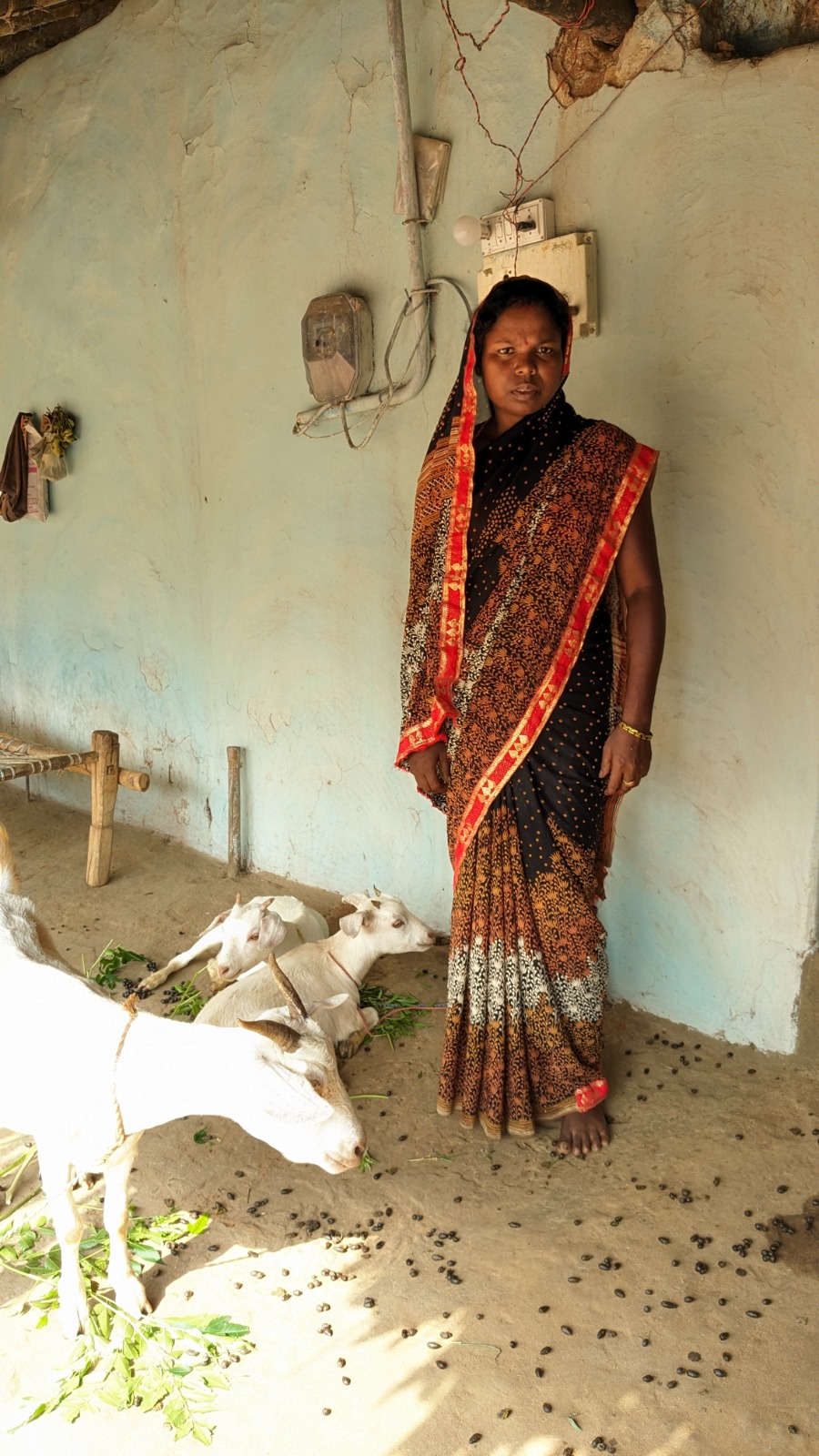 Fulkumari Tudu with her livestock
Introduction

"Ma, 2 bakre aur marr gae, ab kya karein?! Inko bech kar jo paise aane wale they, usse chhat ki marammat karni thi. Ab kya hoga?" (Ma, two more goats have died. What will we do now? We were going to repair the fallen roof with this money. What will happen now?) informed Krishna Kumar, Fulkumari Tudu 's son while running frantically towards her. Titu Kol, Fulkumari Tudu 's spouse works as a tailor in Inarawaran village of Banka district in Bihar, earning Rs. 85,000 annually which is not enough to take care of a family of twelve. Pullkumari has been contributing to this income by growing crops in their 1.1 acres of land and rearing the livestock.
The 24 hours in a day of Fulkumari Tudu were divided in between these activities. Despite being an active caretaker of her family, livestock, and lands, Pullkumari was struggling with a lack of identity. She was known in the community as Titu Kol's wife, Krishna Kumar's mother, and Deepu Murmu' daughter in law. As if this was not enough to hurt her self-respect, Pullkumari's livestock (goats) were dying frequently regardless of her best efforts putting her further in a spot.
Anxious-stressed-angry-hopeful-confidence

"What will I do now? What will we all eat?"These were some of the questions running through her mind. Anxious and stressed, she started walking towards the shed she had created for her livestock. The goats lying lifeless there didn't help. Not only were they a source of income, but she had spent days and months taking care of her, and these frequent deaths were leaving an emotional impact on her as well.
Days went by, her problem stayed the same. She was being eaten alive with the question of protecting her livestock and providing a proper source of income to her family. But things were about to change. The START (Stimulating Tribal and Rural Transformation) project by the RBL Bank Ltd. in partnership with PRADAN organized an exposure visit in the village of Inarawaran around that time. A ray of hope was visible!
The START of today!

Determined to improve the condition of her livestock and contribute to the family income, Fulkumari Tudu started participating in these exposure visits. She attended the training programs organized by the professionals to gain a better understanding about the lives, diet, and health requirements of the livestocks.
When provided with an opportunity to become a pashushakhi (the pashusakhis are livestock rearers of small ruminants selected at community level meeting for providing livestock extension services at doorstep), she grabbed the opportunity with both hands.
Pashusakhi for the livestock!

"Pashusakhi banne se pehle mujhe koi janta bhi nahi tha aur ajivika me bhi dikkat hoti thi. Jab se PRADAN se training mila, pashushakhi ke taur par mujhe salana Rs. 12,000 tak ki aamdani ho jati hai, aur ab log pehchaanne bhi lage hain" (Nobody knew about me before. I was someone's wife, mother or granddaughter. After connecting with PRADAN and becoming a Pashushakhi, I have started earning around Rs. 12,000 yearly from this, people know me by my name now and it has helped with with our livelihoods as well), says Fulkumari Tudu who can-not
contain her happiness and confidence while talking about gaining a sense of identity.
Fulkumari Tudu has been working as a Pashushakhi since January 2022. She is also supporting the grooming of 40 other pashushakhis in Katoria, Chandan, and Banka block of Bihar. These pashushakhis are covering around 6,600 livestock rearer families in the area and providing timely support to the goats and backyard poultry to prevent untimely deaths and further supplement the income.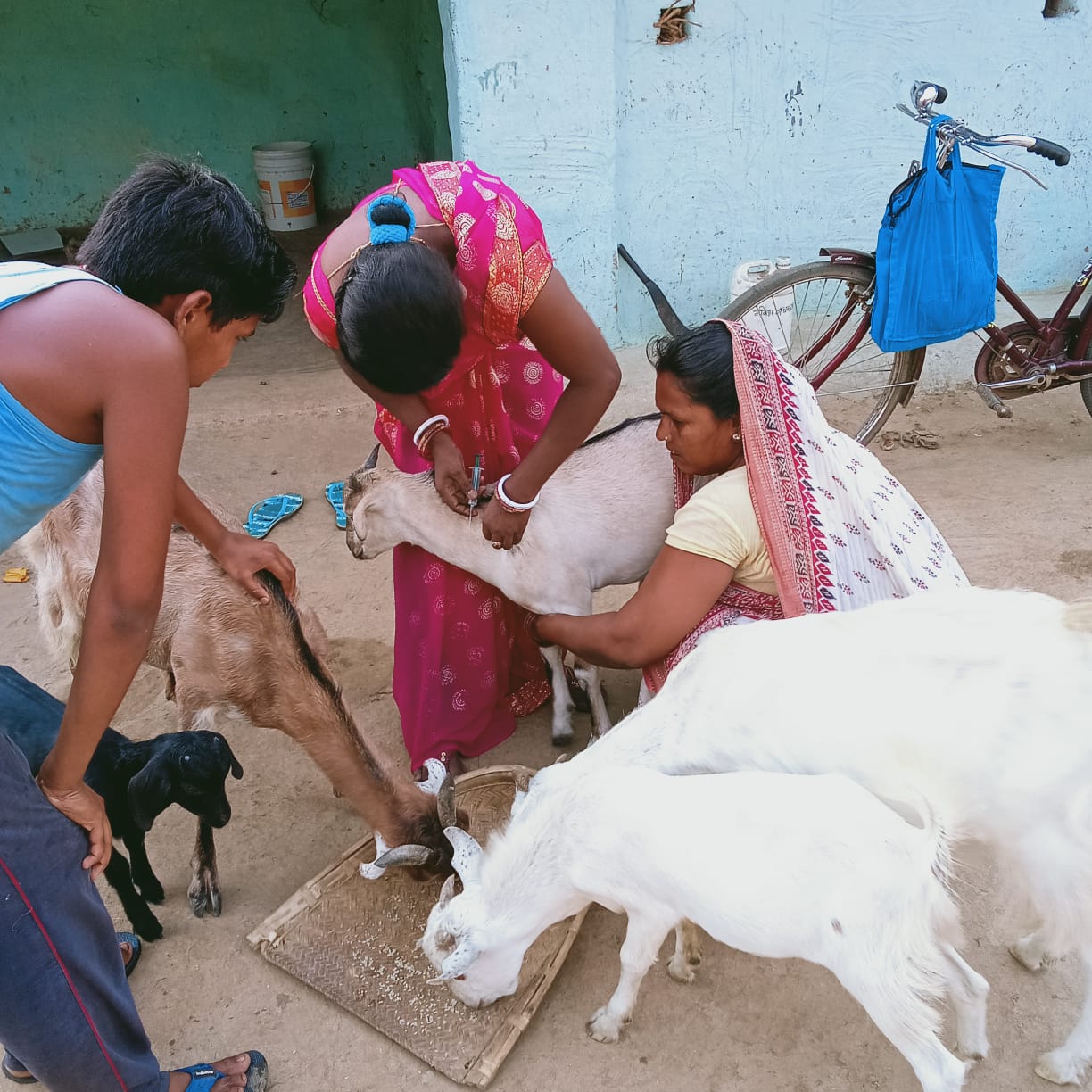 Fulkumari Tudu vaccinating the livestock
"Tikakaran hone se bakario me hone wali khatarnak bimari se marna bahut kam ho gaya hai. Saath hi saath humari kamai bhi badh gai hai " (Vaccination has helped save the lives of goats from deadly diseases helping us in  supplementing our income as well), says Fulkumari Tudu .
"Deworming karane se bhi bakariyo me bhut sudhar hua; pehle chara nahi khati thi sahi se ab khane lagi h aur vajan bhi badhne laga hai" (Deworming via pashushakis has improved the health of livestock. Their diet as well as their weight has improved) says Inarama Devi, a livestock reared from Inarawan village.
The future looks promising.

Along with supporting the community, Fulkumari Tudu is also rearing 15 goats and 20 BackYard Poultry (BYP) and ducks by herself as compared to only 7 goats and 6 BYP before. She is also able to earn an average of Rs. 20,000 annually with the help of these livestock which is acting as a major supplement to the family income.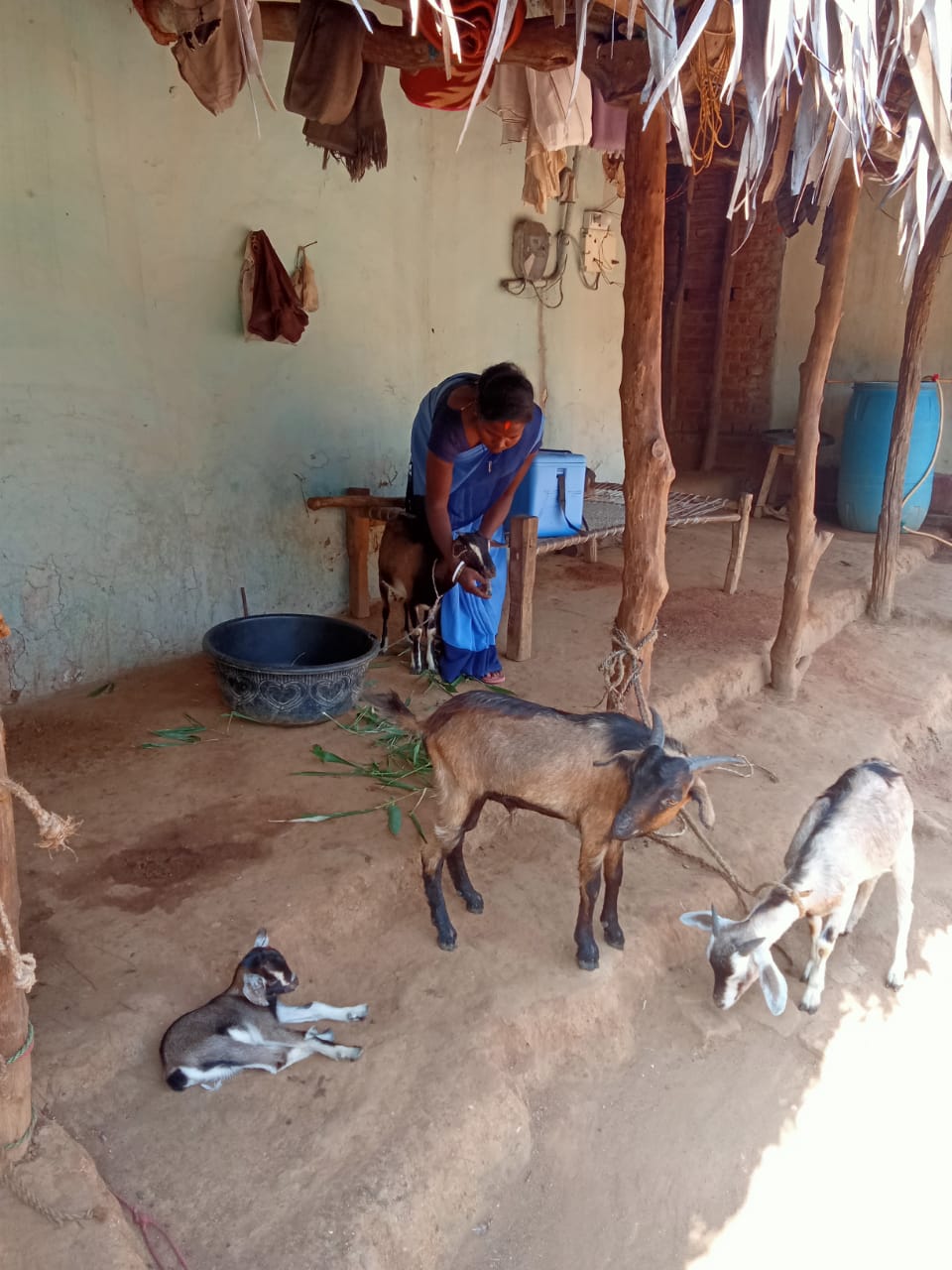 Fulkumari Tudu taking care of her livestock
"Mai chahti hu ki iss area me ek bhi janwar na mare. Kisi ko bhi jarurat ho, mai turant pahunch jati hu madad krne. Bahut faayda hua hai, ab saare bakre aur murge sehatmand hai, aur sabki kamai badhi hai" (I want every livestock to stay healthy in this region. I run for help whenever there is a need. It has helped all of us. These livestocks are healthy and are supplementing everybody's income) says a proud Fulkumari Tudu .
She smiles now as she looks at her children playing and taking care of these livestock instead of running towards her and informing them about their fragile conditions. Fulkumari Tudu is satisfied. So, are the residents of the Katoria, Chandan, and Banka blocks of Bihar.
A sense of Identity

"Fulkumari Tudu kahan rehti hain? Humein unki madad chahiye, bakri ka teekakaran karna hai" (Where does Fulkumari Tudu live? We need her help, the goats need to be vaccinated), asked a resident of a nearby village.
Aap sahi jagah aae hain, Fulkumari yahan rehti hain, and mai unka pati hu" (You have come to the right place, Fulkumari lives here and I am her spouse), says a proud Titu Kol.
Today, Fulkumari Tudu has built an identity for herself and became a role model for the entire village and society. She has broken the shackles of gender stereotype and is supporting others to come out of it as well.