वक्त की हो धूप या तेज़ हो आँधियाँ,
कुछ क़दमों के निशाँ कभी नहीँ खोते,
जिन्हें याद करके मुस्कुरा दें ये आँखें,
वो लोग दूर होकर भी दूर नहीं होते ।

"Once a PRADANite,
always a PRADANite"
हर कदम हर पल साथ हैं,
दूर होकर भी आप हमारे पास हैं,
आपका हो न हो पर हमें आपकी कसम,
आपकी कमी का हर पल अहसास है।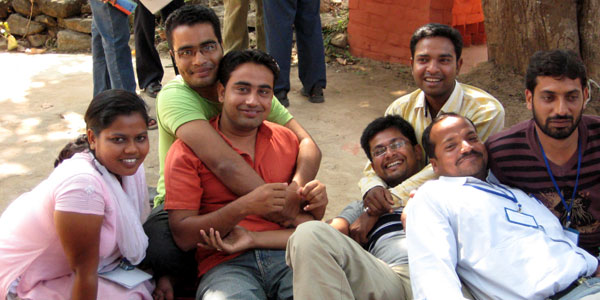 It's time to meet old friends and make some new ones! Time to take time out from your busy schedules and come together for the PRADAN Annual Retreat 2018, being held in partnership with the Alumni for the first time!
Come and join us in celebrating PRADAN. Share your journey with all of us here. Let us explore and forge ways of moving forward, together, to build a better world.
कुछ लोग दिल पर इस तरह असर कर जाते हैं,
टूटे हुए शीशों मे भी साबुत नज़र आते हैं
मिलते तो हैं घड़ी भर के लिए,
मगर दिल में उतर जाते हैं ।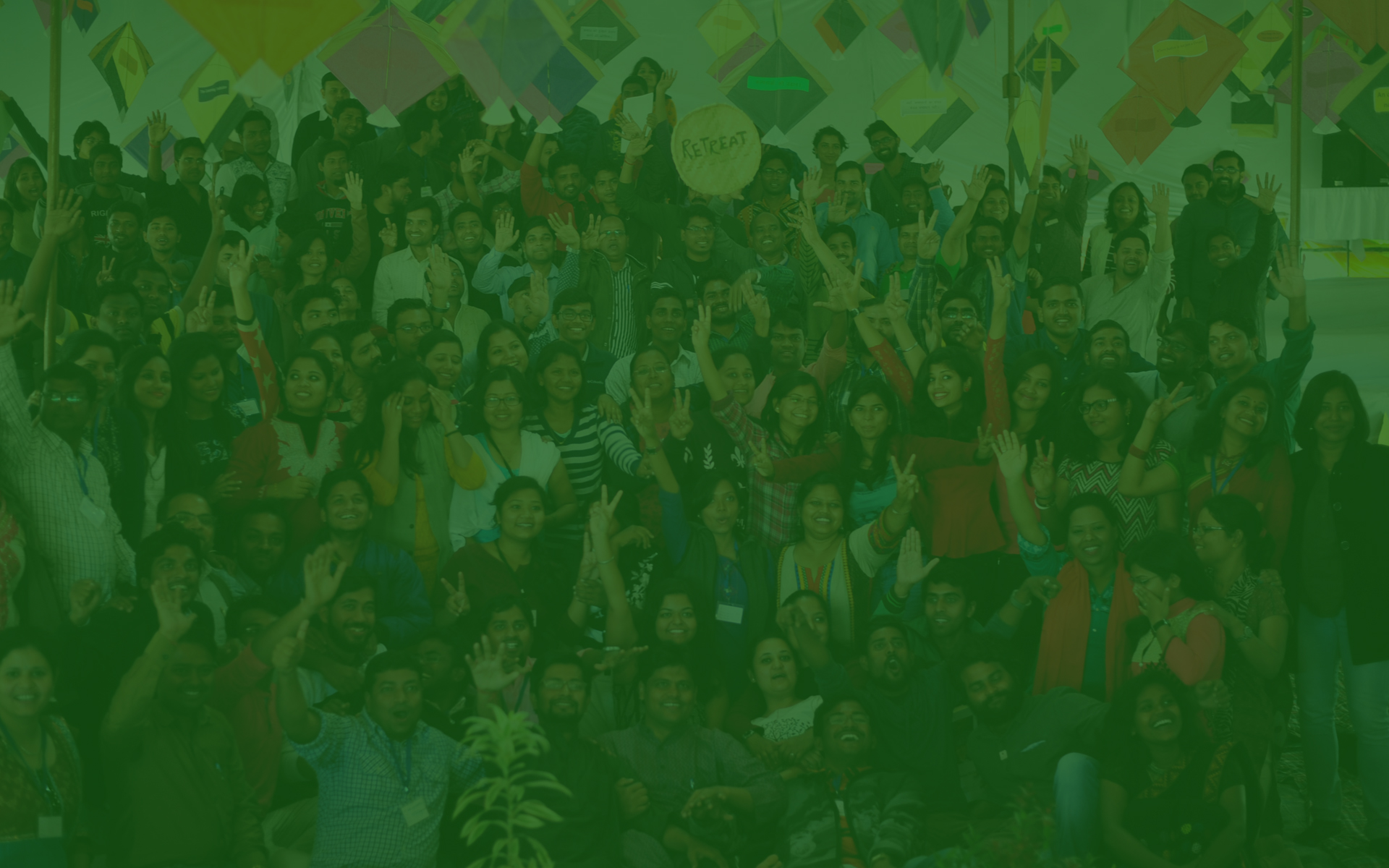 So, block the dates
16-17 April, 2018
16th April
Arya Auditorium, East of Kailash New Delhi
17th April
Siri Fort Auditorium, August Kranti Marg, New Delhi
Let's make this an unforgettable occasion. Let's all come together – to celebrate the spirit of PRADAN, to re-dedicate ourselves to striving for a just and equitable society.
PRADAN has always lived within you and you have contributed a lot to PRADAN.
PRADAN is the most exciting place, today because of you. Let us re-live the wonderful moments together and reminisce on those happening times.
Your presence is paramount to make this event memorable. It will mean a lot to us.
---
"Once a PRADANite always a PRADANite"
Agenda of the Retreat
16th April 2018
 
9:00 am
Registration
10:00 am
Introduction and welcome
11:00 am
Welcome address by Executive Director
11:30 am
Cafeteria: Connecting with contemporaries
12:30 pm
Panel discussion: Once a PRADANite always a PRADANite.
1:30 pm
Lunch break
2:30 pm
Personal sharing in small group
4:00 pm
Tea/coffee break
4:30 pm
Gallery walk: Glimpse of  discussions in the Small Group
6:00 pm
Meeting people over snacks
7:00 pm
Cultural evening
8:30 pm
Dinner
17th April 2018
 
9:30 am
Registration
10:00 am
Introduction of new members, Recap of the last day
11:00 am
Tea/coffee break
11:30 am
Panel Discussion: Contribution of PRADANites to the society
1:00 pm
Lunch break
2:00 pm
What connects us as PRADANites - discussion in Small Groups
4:00 pm
Tea/coffee break
4:30 pm
Panel Discussion: Looking ahead - what next
5.30 pm
Open session
7:00 pm
End of Retreat with PRADAN anthem
8:30 pm
Dinner
1If I need to contact someone, who is the concerned person?
Please get in touch with Parijat (9711964553) and/or Souparno (9968972803) from 10:30 a.m. to 5:00 p.m. Monday to Saturday
2Can I join Retreat for a day?
Yes, you can join Retreat for a day.
3What is the last date of registration?
The last date of registration is April 2, 2018
4What if I have problem in registering myself?
Please call any of the concerned persons given above, they will guide you on registration and any other issue.
5If I require you to find an accommodation for me, will you help?
Yes we have blocked few accommodations in case some alumni wants our help, we will book on first-cum-first serve basis, on triple sharing (@1000/person/day), double sharing (@Rs 1350/person/day) or Single occupancy @Rs2500/person/day. There will be a provision in the registration form where you can add that, otherwise please inform one of the concerned persons in point 1.
6If I plan to bring my child, can I take her/him to the venue
Yes we will have a crèche facility for those who want to use it. We will have a person to coordinate; however, it will be better to bring your care giver for the child in case baby is small and needs constant support.
7Can I have an idea what to expect in these two days?
Broad agenda of the two days will be uploaded by 20th March in the Retreat webpage
8Where do I send my Retreat Report? And what is the last date for sending in the report?
Please send it in the id retreat2018@pradan.net. The last date for submission is March 31, 2018.
9Can I stay with other PRADAN-ites whom I know?
This will not be possible now for logistical issues. However, we will spend the entire day, from breakfast to dinner, together.
10Venue Details
The venue for April 16th is Arya Auditorium and April 17th is Sirifort Auditorium. It is already given on the site.
11Do I have to carry my Invitation?
Those who have successfully registered will get an invite email with a QR Code which you have to show at the Venue Entrance.
12Will there be a separate invitation for April 18th?
Invitation for April 18th will be sent separately.
13If I contribute where will be my contributions utilized?
Your contribution will be utilized for the purpose of Retreat or Founders' day event only.
14Where will I look up for any updates?
Please visit this site from time to time to be updated.
Waiting to meet you all. Thank you
Rajnikant Prasad
Association: 2001-2006
Excited to attend the retreat and meet all.
Neha Jain
Association: 2011-2015
Very worthwhile idea to organise a retreat with all alumni. It will be great if some plans emerge from the Retreat.
Soumen Biswas
Association: 1987-2012
I feel excited :)
Rashmi
Association: 2014-2017
Feeling happy, to be invited.
Bulbuli Sahoo
Association: 2006-2018
परमानंद - bliss
Achintya Ghosh
Association: 1983-2012
I have spent some of the most memorable moments during my association with Pradan. I have learned so much in those six years that has helped me in every aspect of my life. Eagerly waiting to meet everyone after such a long time!
Mukta
Association: 1995-2001
Look forward to meeting old friends
Amita
Association: 1986-1986
I am feeling overwhelmed and nostalgic
Shataakshi Verma
Association: 2016-2017
Excited for Event !!
Deepak Mathur
Association: 1993-2002
Looking forward to meeting people after so many years!
Mithun Som
Association: 2000-2002
I am looking forward to meet everybody and to see the progress of PRADAN, since the time, I moved away.
Jui Gupta
Association: 1992-2005
Feeling Great to be a Pradanite.
Rishi Meena
Association: 2011-2017
Feeling happy to be invited!
Bulbuli Sahoo
Association: 2006-2018
Looking forward to meeting old comrades and new friends from PRADAN.
Prava Rai
Association: 1986-1990
Feeling elated to connect with PRADAN, where I had a great time working. Look forward to hear about how PRADAN is growing and contributing as an organisation, and look forward to old colleagues and friends, as well as new ones.
Chandrakant Pradhan
Association: 2000-2006
It's brilliant idea to reconnect Pradanites.. Awesome feeling @ Excited to join the retreat !
Naresh Kumar Nain
Association: 2006-2016
Excited to meet everyone !
Kavita Maria
Association: 2001-2011
Feel great by receiving the invitation only, that organisation gave thought about not only to her current family but also to those who were part of it in past. Pradan inculcate a culture which i try to create in every spare of my life and made me a better person as a individual for that i am always great full towards Pradan. Feeling excited to meet everyone .
Sandeep Kumar Bharmoria
Association: 2013-2015
Curious nostalgic
Raghini B
Association: 1993-1998
Feel great by receiving the invitation only, that organisation gave thought about not only to her current family but also to those who were part of it in past. Pradan inculcate a culture which i try to create in every spare of my life and made me a better person as a individual for that i am always great full towards Pradan. Feeling excited to meet everyone .
Sandeep Kumar Bharmoria
Association: 2013-2015
Great to get together
Biswajit Sen
Association: 1986-1991
Very excited to visit and attend.
Sohini Ghosh
Association: 1998-1999
Waiting for the great event!!
Amjad Khan
Association: 2002-2009
I still live with my days at Pradan and still reflect back a lot while working on research designs and projects in my current work.
Dheeraj
Association: 2009-2013
I am excited to be able to meet all my fellow pradanites and share 2 days with them.
Tuhn Kumar Das
Association: 2002-2013
Feeling Great to be connected with larger PRADAN family and members from development fraternity on the occasion of 35 memorable years of development journey.. Look forward to a meaningful and memorable Retreat.
Pramod Sahu
Association: 1997-2009
It would be really great to reconnect with PRADAN and share our experiences
Rajinder Singh Nijjar
Association: 1990-1993
Excited!
Saurav Gera
Association: 2013-2016
Excited to be a part of the grand event and to interact with the PRADAN family members again. Meet you all soon.
Sai Sakti Agasti
Association: 2010-2017
It's brilliant idea to reconnect Pradanites.. Awesome feeling @ Excited to join the retreat !
Naresh Kumar Nain
Association: 2006-2016
Really exited to meet my friends
Ashok Kumar
Association: 1994-2010
A great occasion to meet old friends and remembering those few years well spent in PRADAN!
Tapas Kumar Datta
Association: 1984-1989