Alak Jana, a 1995 MSc (Agriculture) graduate from Bidhan Chandra Krishi Viswavidyalaya, finds that working for PRADAN is the best way to combat rural poverty.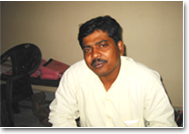 "I applied to PRADAN out of curiosity," Alak Jana, a 1995 MSc (Agriculture) graduate from Bidhan Chandra Krishi Viswavidyalaya, reports "as I wanted to find out what a non-governmental organization actually does and because I heard they would give me independence in my work and were the only ones working in livelihood. It was my village stay at the beginning of my first year of PRADAN that awoke my commitment to rural development.
During the village stay, every day I was only given a little bit of rice, daal, and potatoes. And I began wondering that if this were the best food they were giving to guests, what were they themselves eating? So I started talking to people in the village about this and discovered that in fact they only had sufficient food for three to six months a year and afterwards had to migrate. There was lady in this village in her advance pregnancy stage, whose husband was away and who was working on heavy construction work cutting soil and carrying heavy loads – and she worked the entire time until she actually gave birth to her baby. This struck me – I realized what hardship rural life is and decided that I wanted to work with these people to alleviate their poverty."
Alak decided that working with PRADAN, a not-for-profit organization based on the belief that well-educated people with empathy towards the poor must work at the grassroots to remove mass poverty, was the best platform for this for a number of reasons. "First of all, PRADAN provides the opportunity for professionals to work at the grassroots level, and this is very important to me – I get much more energy from working out in the field than from working in an office. Then PRADAN's mission strikes me: to work to promote and strengthen livelihoods for poor people in villages. I enjoy PRADAN's team structure – the fact that we come from different personal and academic backgrounds and work together like a family. PRADAN seriously grooms individuals in their organization through the large quantity of training they provide. PRADAN also allows me to work flexibly and to think of solutions creatively. I have received much encouragement for implementing new ways of working with the environment in agriculture, for instance new ways of water harvesting and paddy production."
Soumen Biswas, another BCKV graduate and PRADAN's Programme Director in Ranchi, Jharkand commends Alak's creativity, citing as an example the innovative way he used the SRI method for paddy cultivation on finger millet – with success. "He also brought real team spirit and a focus on team goals into the Khunti team," Soumen continues.
The Khunti team has been extremely successful in promoting lac production, a traditional practice in Jharkand that was decreasing because of environmental and climatic factors. After consulting experts, PRADAN educated the farmers about better practices to combat these negative influences and these farmers have now increased the output and instead of making a profit of 500 to 1000 rupees as they had previously, they now make a profit of 3000 to 5000 rupees. Furthermore, they now have two or three cycles of lac production each year instead of just one, thereby multiplying their increased profit. PRADAN's work with lac started with 150 families and then expanded – by the third year, 2000 families were working with PRADAN on lack and another 100,000 families were following the PRADAN prototype without PRADAN support. PRADAN is also the only partner of the State in lac production.
Alak explains the Khunti PRADAN team's working method in the following way: "We set a five year goal and set a plan for each village based on their economic and social situations. We work very transparently at community level and warn the villagers that we will not be there forever, that the villagers themselves should be the stakeholders and learn to be self-sufficient. Then we help the community use their resources more efficiently and train them – in some cases we teach barely literate people to use very sophisticated technology.
It is so satisfying when at the end of the year we have achieved those goals and have, for instance, provided 3000 families with an additional six month's food sufficiency and therefore an additional ten to twelve thousand rupees a year and to see the cooperative of 3000 to 4000 women that we have set up. It is wonderful when a villager says, "Without you, we could not have achieved this" or merely when I am greeted with "Jahar, Dada" which shows that the villagers accept us."
To people thinking of joining PRADAN, Alak has the following advice: "If you are interested in improving the economic condition of India, come join PRADAN. Then experience village life and taste their hardship – if it leads you to think about them, to be inspired to work for them, stay with PRADAN. Remember that your parents, the government, and society has invested much in you – and this is your chance to contribute something yourself to society. In other jobs you can get more money, but I doubt you can get the same satisfaction as you can get through working with villages."
Read other profiles