Leveraging Development Finances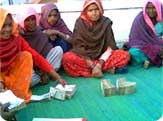 Finances are necessary for the rural poor to be able to create livelihood assets and as working capital, enhance the productivity and carrying capacity of resources, create service infrastructure, and build people's skills and capabilities. As a strategic principle, PRADAN leverages livelihood investments by linking the rural poor to government programmes and banks. PRADAN plays the role of a facilitator in such linkages. PRADAN's work in linking people directly with mainstream institutions has proven to be a far more empowering process than merely receiving and channeling finances to the community. As they engage in the process themselves, the rural poor enhance their capabilities in handling large amounts of finances as well as in dealing with resource institutions.
PRADAN leverages development finances from government agencies at the District, State, and Central levels, as well as the banks.
Additionally, people's own resources, including savings in self-help groups are also mobilised. In addition to facilitating linkages of self-help groups directly with banks for loans, PRADAN has also set up partnerships with private banks and apex lending institutions for financing livelihoods.
Also See
Promoting & Nurturing SHGs
,
Livelihood Planning,
,
Sectoral Interventions
,
Human Resource at the Grassroots
,
Fostering Community - Based Organisations,