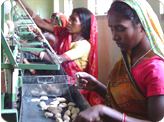 PRADAN has developed a menu of sectoral livelihood streams. These have grown as a result of PRADAN's experiences of livelihood planning with SHGs in different locations and areas of study. Periodically, new sub-sectors are added based on experimentation, collaboration, and exposure to initiatives outside PRADAN.
PRADAN undertakes reliable experimentation before implementing a livelihood programme in a new location. Such phase is vital, so as to avoid massive failures, which the rural poor cannot afford. Based on people's choices, resources and capabilities, PRADAN pilots a livelihood innovation with a few families in order to master and adapt technology, identify training needs, develop training programmes and create a successful prototype before promoting it as a large-scale intervention.
Over the years of its consistent work, PRADAN has succeeded in developing a variety of appropriate technologies for enhancing productivity, with the objective of generating sustainable livelihoods for rural poor communities.
PRADAN organises exposures and training programmes, trains community-based service providers (selected by the SHGs), promotes organisations where necessary, develops service linkages, and leverages missing infrastructure from public agencies.
Poultry and Tasar are two of the classic examples of PRADAN's programmes that begin with a handful of families and proceed to reach bigger numbers. These two programmes alone are poised to be promoted among several thousand families. So far, PRADAN has promoted 15 poultry co-operatives in Madhya Pradesh, Chhattisgarh, and Jharkhand. A Producer Company for agriculture development, another one for Tasar and a third one for dairy (in collaboration with the NDDB) have been set up. A national-level body of poultry co-operatives is being planned. It is envisioned that these entities will be financially self-reliant.
Also see:
Promoting & Nurturing SHGs,
Livelihood Planning, Human Resource at the Grassroots, Leveraging Development Finances