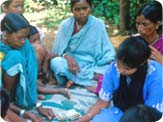 Transforming Lives

Before joining the SHG started by PRADAN in 2002 Savitibai's family was dependent on daily wage labour and the sporadic harvesting of soyabean to make ends meet.


read more...
PRADAN begins its engagement in most new villages by promoting women's Self-Help Groups (SHGs). The SHGs start out as thrift and credit associations of poor women who share similar social and economic contexts. PRADAN helps SHG members decide the rules of business and pool their savings for small loans, and trains them in playing a "public" role while giving them the experience of working together.


For the more mature SHGs, PRADAN helps them establish collaborative linkages with banks in order to leverage credit that, in turn, meets members' needs for larger funds. Such linkage-building requires the SHGs to play the role of social collateral, by satisfying third-party stakeholders through demonstrated positive behaviour, and learning and adopting group processes to enforce contracts.
These new and acquired capabilities and linkages enhance the women's self-confidence and status in the family and community. The SHG is thus a platform for enabling women to access resourceful "others" – such as banks and public services – and for realising their full potential to spearhead more long-term changes that affect them as women.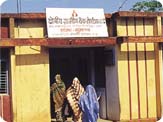 SHGs become virtual classrooms where the women learn the ideals of democratic governance through practice. The ability to work together as a group, developing mutual trust – and the mechanisms to reinforce that trust – and participatory decision-making are vital capabilities that the women learn, enabling them to form and manage a variety of peoples' institutions in the process.
Moreover, PRADAN helps groups to form secondary organisations such as Clusters and Federations. The experience and capabilities developed through functioning in collectives stand them in good stead when they are required to set up and manage their own livelihood-related institutions such as Co-operatives, Mutual Benefit Trusts and Producer Companies.
PRADAN encourages each SHG (and its members) to learn about their context and articulate a new vision for themselves and their families. The women then draw up and carry out concrete plans to realise such vision.
Also See
Livelihood Planning
,
Sectoral Interventions
,
Human Resource at the Grassroots
,
Fostering Community - Based Organisations,
Leveraging Development Finances