Human Resources at the Grassroots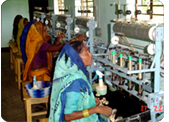 Beginning from the organisation's inception in 1983, PRADAN has taken it as a serious task to deploy excellent-quality human resources for grassroots work. Towards this end, PRADAN undertakes a rigorous recruitment and selection process from among highly qualified university graduates. Qualified candidates then embark on a year-long apprenticeship programme of
learning-through-guided-practice,
with the aim of turning them into a pool of young professionals equipped with the necessary knowledge and skills for effective grassroots development work.
PRADAN's in-house trained and motivated personnel promote livelihoods at the grassroots level. They work on an ever-expanding scale in sectors as diverse as agriculture, natural resource management, and rural enterprises, each of them playing a key role in PRADAN's grassroots development programmes and expansive outreach.
Today, over 351 professionals are deployed in some 5,766 remote villages in PRADAN's localities, working directly with the target communities. Their work directly impacts on 374,008 families across seven of the poorest states in India. A majority of these families belong to the Scheduled Tribes and Scheduled Castes.
Also See
Promoting & Nurturing SHGs
,
Livelihood Planning,
,
Sectoral Interventions.

,
Fostering Community - Based Organisations,
Leveraging Development Finances