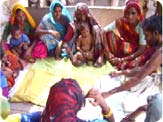 PRADAN seeks to enhance and strengthen sustainable livelihood security of the rural poor in villages through programmes in microfinance, agriculture, development of land and water resources, forestry, livestock development, and microenterprises. PRADAN works with families, who are marginalised, excluded from the economic, social, and political mainstream and are unable to participate in sustainable livelihood activities. As PRADAN works to enhance their livelihoods, rural families and all their members – male and female – are helped in realising a life of dignity. Such life is characterised by ensured food security, decreased economic vulnerability, enhanced incomes, and increased access to basic entitlements.
With this perspective, PRADAN works with the women in poor families, helping them increase the family's economic security, building their capabilities, and creating a supportive public and private space. In the process, PRADAN works with both men and women in the family, helping them to improve their livelihoods and access complementary services from public and private institutions.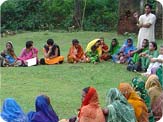 PRADAN assists the families to choose from among several livelihood options based on their resources, skills, and perception of risks. But members first need to develop concrete livelihood plans. Drawing up such plans calls for a degree of behavioural transformation – on the part of the rural poor – to develop a vision, set goals, and assess the risk threshold.
Combining PRA tools such as livelihood and resource mapping, interventions such as achievement motivation training, area planning and envisioning exercises, PRADAN helps SHG members and their families develop medium-term livelihood goals for themselves. Assistance is also provided to chart out concrete short-term plans and estimate needs for technical and financial assistance.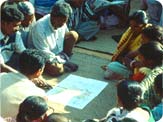 PRADAN uses various participatory learning tools including pictorial-based methodologies to help women track and analyse events in their lives and livelihoods, while making plans for changes. These exercises foster deliberations and discussions on broader issues that are important to – and have an impact on – women's lives and livelihoods.
Exercises are conducted in groups as well as with each household. They are not one-time inputs given to the groups but are part of an ongoing engagement with the women.
Also See
Promoting & Nurturing SHGs
,
Sectoral Interventions
,
Human Resource at the Grassroots
,
Fostering Community - Based Organisations,
Leveraging Development Finances