PRADAN'S strategies, programmes, activities, and methodologies have evolved over the last three decades since the orgnaisation's beginning in 1983. Yet right from the start, PRADAN's institutional development processes have always been guided by two general themes: expanding livelihood opportunities for the rural poor, and utilising the talents of capable and caring people in implementing such projects in the grassroots.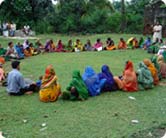 PRADAN's interventions generally begin with the promotion of women's Self-Help Groups (SHGs). The initial contact is usually made with the women of the household. PRADAN focuses on women because they are half of the population and yet remain the most disadvantaged among the poor. They are vital in fostering change in their families and communities.
On an ever-expanding scale, PRADAN professionals promote livelihoods in a diverse range of sectoral activities, ranging from agriculture and natural resource management to rural microenterprises. PRADAN assists the SHG member-families in making choices among several livelihood options based on their resources, skills, and risk perception.
PRADAN supports and assists SHGs to leverage finances, which they use in creating livelihood programmes and sustaining them, as well as enhancing the productivity and carrying capacity of resources and building people's skills and capabilities.
The organisation's field staff is composed of highly-skilled and well-trained development professionals who – working in the grassroots – help the rural poor build their capabilities by, among others, developing and introducing new ideas to expand and strengthen their livelihoods.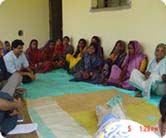 As a development organisation, PRADAN takes great pride in having a human resource development programme that focuses on the systematic recruitment, training, and deployment of some three score university-educated professionals every year. Upon receiving their training, these professionals take various responsibilities surrounding the aims of enhancing and facilitating the growth of PRADAN's initiatives in its different localities.
In the coming decade, PRADAN remains committed in addressing the issues of massive poverty in the country's villages. It seeks to further expand its operations and reach 1.5 million families by the year 2017. To achieve such scales of operation, PRADAN is aware of the need to venture into new things, and not continue doing only more of the same. This requires a radical shift in stance: becoming more outward-focused in goals, more proactive in collaborations, and more aggressive in building synergies with external stakeholders.

PRADAN thus seeks to even more actively influence decision-makers while at the same time mobilising development funds and support for programmes from the government and financial institutions. Advocacy remains a key factor in PRADAN's strategy to expand sustainable livelihoods for the rural poor.
PRADAN's evolved and clearly focused methodologies to promote livelihoods are outlined in the following sections:
Promoting & Nurturing SHGs
Livelihood Planning
Sectoral Interventions
Human Resources at the Grassroots
Fostering Community - Based Organisations
Leveraging Development Finances