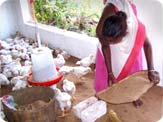 PRADAN has developed a model of decentralised smallholder poultry rearing which has emerged as a powerful tool for the livelihood promotion of rural poor women. Women from tribal and other poor families are organised into cooperatives to serve the growing needs of small town and urban markets.
PRADAN provides poor women – through the cooperatives – hands-on training and assistance in securing finances from either the banks or government programmes. These women rear a batch of 300 to 400 birds in rearing sheds built on their homesteads. In around 32 days the birds are ready for sale.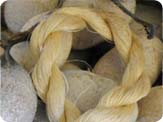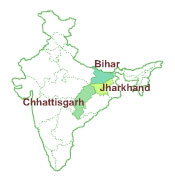 The women's cooperatives, organised by PRADAN, also provide inputs like feeds, chicks, and medicines. At the same time, the cooperatives make arrangements to market the birds. Some of the producers are trained to provide veterinary care and manage linkages on behalf of the co-operative. By working together the women realise the importance of scale economies to the poultry business.
However, PRADAN facilitated the foundation of the National Smallholder Poultry Development Trust (NSPDT) in 2009 to carry forward the activity, advocating policies to support small-holder poultry farmers and assist in mobilizing resources thereby facilitating more favourable and supportive conditions for the rural women start-ups.
As on March 2015, NSPDT worked with nearly 9,000 families organised into 21 cooperatives, with a sales turnover of Rs. 2.6 billion. For more information please visit
http://www.nspdt.org/