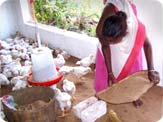 PRADAN has developed a model of decentralised smallholder poultry rearing which has emerged as a powerful tool for the livelihood promotion of rural poor women. Women from tribal and other poor families are organised into cooperatives to serve the growing needs of small town and urban markets.
PRADAN provides poor women – through the cooperatives – hands-on training and assistance in securing finances from either the banks or government programmes. These women rear a batch of 300 to 400 birds in rearing sheds built on their homesteads. In around 32 days the birds are ready for sale.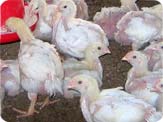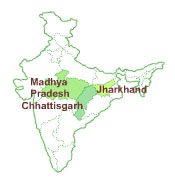 The women's cooperatives, organised by PRADAN, also provide inputs like feeds, chicks, and medicines. At the same time, the cooperatives make arrangements to market the birds. Some of the producers are trained to provide veterinary care and manage linkages on behalf of the co-operative. By working together the women realise the importance of scale economies to the poultry business.
The poultry cooperatives suffered a depression brought about by the recent bird flu scare. Many units across the country were wiped out. Still, the cooperatives stayed afloat, taking on measures to mitigate the ill effects of the bird flu scare. As market prices crashed, they reduced production and offered members a minimum support price. They are now rapidly picking up from the depression, with most of them having recovered a significant proportion of their losses.
As on March 2013, Pradan works with 6,017 families organised into 15 cooperatives, the largest conglomeration of smallholder poultry in India
Also see:
Tasar Yarn Production
Link:
South Asia Pro-Poor Livestock Policy Programme