Microenterprise Promotion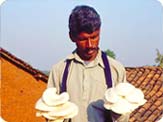 In PRADAN's project areas, land, water, livestock, and forests remain the main sources of livelihood that are available to the rural poor. Most families depend on agriculture for their meager incomes.
But with continually diminishing outputs and declining farm sizes, it has become more urgent for the rural population to diversify their avenues of income. This necessarily involves introducing them to emerging home-based microenterprises. The aim is to take advantage of the rising demand for newer goods and services, which provide livelihood opportunities outside traditional farming.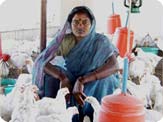 PRADAN is promoting home-based microenterprises such as Poultry rearing, Tasar yarn production, vermi-composting, mulberry sericulture, and cultivation of oyster mushrooms.
Also see:
Tasar Yarn Production
,
Broiler Poultry Rearing