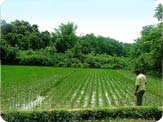 At the heart of PRADAN's strategy has always been to work directly with the rural poor, build their capabilities, and introduce and develop new livelihood opportunities. While the organisation's strategies, programmes, and methodologies have evolved over time, developing land and water resources has been a fixture in PRADAN's work.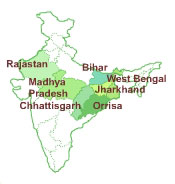 PRADAN takes the integrated approach to resource management and has demonstrated ways to promote the development of natural resources. This approach leads to an equitable and sustainable economic growth, ensures household food security, and helps minimise mass poverty.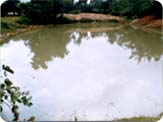 Water Harvesting Tank
An integrated approach to land and water resources management requires participatory planning with the people, to develop systems and treatment measures that are most suitable to the resources available. The technologies that PRADAN has developed are simple and labour intensive and best suited to the people they are designed to serve.
PRADAN's integrated approach to natural resource management (INRM) calls for the efficient management of soil, water and vegetation resources, yet maintaining a livelihood focus. INRM recognises that uncontrolled, unplanned and unscientific use of natural resources results in their decline. Therefore, managing natural resources calls for proper land use while protecting it from erosion; enhanced productivity while maintaining soil fertility; and water harvesting and conservation.
INRM not only optimises the productivity of land and water resources, but also helps fight mass poverty. In other words, sustainable development efforts must take into account the relationship between the needs and priorities of the people, and natural resources.
INRM
Also see:
Agriculture
,
Horticulture