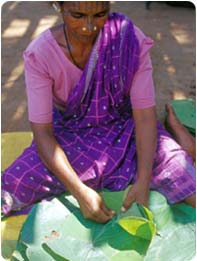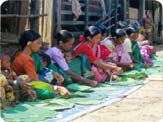 PRADAN began its Siali leaf plate making intervention in April 2002. Making leaf plates is a source of supplementary income for poor people living near forests in South and West Odisha, Andhra Pradesh, Chhattisgarh, and Madhya Pradesh. Virtually every household in those areas depend on this activity. Their annual incomes vary from anywhere between Rs. 1,500 and Rs. 2,500.
This livelihood activity uses the leaf of the Siali creeper, abundant and available throughout the year, and which is widely used in Andhra Pradesh, Tamil Nadu, and Maharashtra. PRADAN works in the Balliguda and Kandhamal districts where over seventy per cent of tribal women are engaged in making loose leaf and rough stitched leaf plates. The producers are trained to stitch plates of finer quality and produce a wider range of products either manually or with the aid of machinery.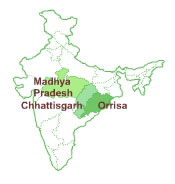 PRADAN's strategy is to help producers – mainly women – to increase incomes; organise them into SHGs to pave the way for access to credit; create storage facilities and upgrade products to close-stitched and machine-stitched plates.
As on March 2015, PRADAN's intervention in Siali leaf plate involved 628 families