Belonging to Calcutta and holding a Masters' degree in Geology from Jadavpur University, Dibyendu wants to give something back to the people.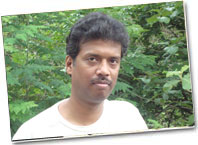 The village women from Kashipur block in West Bengal congregate in the main room of a dormitory in Adra. They greet each other warmly and lay colourful mats in a circle on the floor. Today, with Dibyendu Chaudhuri, they plan to learn about leadership and facilitating meetings of large groups. These villagers belong to a federation of women's Self Help Groups, which are the organisations of savings and credit groups established with the help of PRADAN. They sit in a circle and begin to learn about how they must conduct themselves within the new organisational structure that Dibyendu and his team have helped them form. They play skill building games and sing patriotic songs. The women are happy, and it is obvious that they are proud of the progress they have made since their first days in the organisation. The scenario before him is what makes Dibyendu glad he is a member of PRADAN.
Dibyendu, a native of Kolkata, is the leader of PRADAN's team in Bankura, West Bengal. He and his team build hope, options and lives in the villages of the area. Their work uses the women's savings groups as the base; such groups from many villages make up the federation that is present today. Dibyendu values the time he spends with villagers and the visible impact of his work the most. He says that the most energising thing for him is going to the field and making people excited about what they can do. "Excitement in the community excites me," he says.
Today's interaction is somewhat special for him because, as Team Leader, he is often bound to the office. The administrative side of the job, he says, is his least favourite part. Being in the field, where he can see the faces of those he helps is what originally brought him so much joy in his career. He relishes the opportunity to return there whenever he can.
Before working in PRADAN, Dibyendu held a job in Kashipur with the Institute of Wetland Management and Ecological Design. He was not entirely displeased with his position; it was there that he came to know personally of the plight of some of India's rural poor. "I felt I needed to do something for these people," he says.
He has continued with PRADAN for so long, he says, because of tangible effects of his work in the villages and the villagers with whom his team has worked. "I can see changes happening because of my efforts," he says. He finds that men and women are no longer dependent on moneylenders due to the formation of savings groups; there are increased earnings in the villages from other projects. He says that not everything he has wished for has occurred but "If I continue to work, my wishes bear fruit." Dibyendu's dedication to the villagers shows in his everyday work.
One of his proud moments was to be the first in the area to complete the computerisation of the women's savings groups' accounts, which the women themselves handle. His team's work is an example to others and this gives him strength. "I thought—Yes! I can do it!"
Dibyendu's home is in Adra where he lives with his wife and son. His work occupies most of his time, and he wishes that he had more to spend with his family. His wife says to him sometimes, "A Pradanite mustn't marry!" He has kept Sundays as 'Family Time'. Plus, at least once a year, they take a trip together. He says that despite the pressure for time, they are managing.
The women in Adra are very grateful for the time Dibyendu has devoted to them. After singing patriotic songs together, they prepare and enjoy a late lunch of rice, sabzi and sweets. Dibyendu sits on the mats with them and they converse as family, as equals, as friends. These bright and outspoken women thank him when they leave. He can see the immense change in them since they started working together. This is one of the many rewards that he experiences in his career as a development worker in PRADAN.
Read other profiles