Vision
PRADAN seeks to enable poor rural families to live a life of dignity.
Mission
Impacting Livelihoods to Enable Rural Communities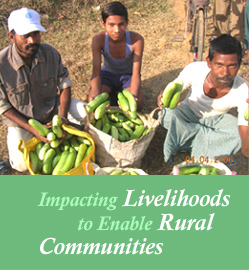 PRADAN's mission is rooted in a clear understanding of the societal contexts that make poverty in India complex, a phenomenon which thrives on various interrelated factors including:
The rural poor's view of themselves;
Their understanding and skills to deal with external systems;
Their access to resources;
Their technical knowledge to use the resources that they have;
The existence of feudal or semi-feudal agents which deprive the poor of their surpluses; and,
Various other socio-political and economic forms of deprivations
Over the many years that it has worked with India's rural poor, PRADAN has learned valuable lessons that serve as a guide to fulfilling the organisation's mission. Among those learnings are the following:
Alleviating rural poverty is an extremely challenging task. Development efforts must be conducted with the collaboration of different and equally interested actors in order to make an impact.
Rural communities are fragmented along caste and class lines. These tend to restrict the effectiveness of joint action for development.
Among the rural poor, women are generally marginalised, yet they prove to be more effective agents of social change. Sadly, however, such potential is not well-recognised.
There are plenty of resources in the rural areas – including human resources – which remain largely untapped.
There is need for innovation in the social and technical spheres for generating ideas that can affect the rural poor on a large scale
The government remains the biggest and most dominant actor in development, but its efforts have had a limited effect on alleviating rural poverty. This could be due to various factors, including:

lack of access of people to government;
government programmes that have little relevance to rural communities;
inappropriate design of some government programmes and schemes;
low quality of human resources at the implementation levels of government; and,
lack of recognition among government personnel that they have a stake in the poor's development.

The context in which PRADAN operates is changing fast With all this in perspective, PRADAN seeks to define the space in which it can be most effective, as well as the approaches that can best help the rural poor enrich their lives.
PRADAN's core competency is in the area of sustainable livelihoods. By addressing issues of livelihood, PRADAN has been able to make an impact in the lives of poor communities. Having access to sustainable livelihood opportunities, the poor become less vulnerable to adverse natural and man-made forces. Control over their source of livelihood improves the poor's image of themselves. Livelihood is a tangible instrument around which rural poor people can be organised, opportunities to deal with outside systems be created, and a greater impact on the fight against poverty be attained.
In this light, PRADAN is guided by the principle that for the rural poor communities to be able to access opportunities for sustainable livelihoods, they must first be enabled. This concept of "enabling communities" implies that PRADAN adopts participatory processes in its work with the people, making available ideas and technologies in a manner that enhances the poor's access to and control over their resources. These resources, in turn, aid in the improvement of their lives, in organising them into appropriate peoples' institutions at various levels, to improve their bargaining power and in enhancing their ability to deal with mainstream systems and provide sustainability to the interventions.
PRADAN looks for concrete livelihood interventions in the local context after a scientific evaluation of the specific environments. We constantly seeks to extend intervention that is sharper and more relevant, aided by a thorough process of action, reflection, and learning.
Since rural poverty is so widespread and multifaceted, it is not possible for any single actor to make a significant dent in the problem merely on its own. Efforts will be sustainable only when made at multiple levels and at a scale that is significant. Therefore, PRADAN also collaborates with, educates, and influences mainstream actors in development. A gap exists between the mainstream and the grassroots, and PRADAN is competent in effectively filling such a void. Moreover, PRADAN strives to share its experiences with other development workers, recognising the unfortunate fact that knowledge about processes in addressing rural poverty is severely limited.
PRADAN carries out all of these programmes with the collective hard work of its highly skilled and dedicated workforce. The organisation recruits and deploys high-quality human resources at the grassroots, inducting, nurturing, and developing professional development workers who are able to operate in a wide spectrum, are capable to reverse roles, are self-regulating, and continually seeking excellence in their tasks.