Bijay holds a PGDRM from XIMB and is filled with joy that his work in PRADAN has such a huge impact on the lives of the rural poor.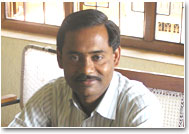 Bijay Swain grew up in a village just 25 km outside of Bhubaneswar. The son of a farmer and an educator, he has personally experienced the financial constraints that permeate rural India. He dreamt of higher studies but his family's finances placed limits on the college he joined. Through hard work and good fortune, his dream became reality. Soon after, he found himself helping to alleviate the plight of the impoverished through PRADAN, the organization of which he is now a seasoned member.
After his postgraduate education from odisha University of Agriculture Technology (OUAT) in computer applications, Bijay says, "My thoughts were on how to get a good job and earn money." He worked as a software developer for one year, helping his family to make both ends meet, but found his job unsatisfactory. "Somehow, it did not excite me. It was a desk job. I was looking for something more dynamic. I wanted to study further, but couldn't because of family constraints." For four years, while he sought employment in the more competitive sectors such as banking, before his efforts came to fruition, he continued to look for avenues to study. He joined Xavier Institute of Management Bhubaneswar (XIMB) and got a post-graduate degree in rural management. "It was a good opportunity to look at the development sector in another way. I was given exposure to rural areas and NGOs. I learned how I could help the poor progress and become self sufficient. It gave me a better perception of my life."
He completed his degree with an internship with PRADAN. When he completed the course, he was offered positions in other organizations. He accepted the offer from PRADAN in 1999. "Earlier, I wanted an education in technology and a good job. After I saw educated people enjoying working with the poor, this mindset changed. The people in the village appreciate their work, and so do the people in the government. There was a bigger change in me during my internship."
One of the villages in Bijay's project area had a problem that was keeping the villagers from being productive in agriculture: elephants. Rather than using the land that surrounded their village, they became dependent on irregular daily wage labour to feed themselves. This did not ensure them food for more than a few months a year. Bijay held meetings with the villagers to discuss how this problem could be dealt with since elephant raids were the main obstacle keeping them from generating income from crops. The first solution was to move the crops from fields above to below, where the elephants could not easily eat them. This was a wild success. Last year, they produced 110 tonnes of ginger; the addition of a growers' co-operative assured them a market. "It is a remarkable achievement not only for me but for the villagers. It was appreciated at all levels of the government also." The co-operative now plans to concentrate its crops in a central area, to make them easier to guard. These plans were created by the villagers with Bijay's help. They have the money and the freedom now, the likes of which they had never experienced before. Most important, they have hope.
Bijay's work keeps him busy most of his time. He says that the hardest part of being a member of PRADAN is the lack of time he has for his parents, wife and son. "Sometimes I cannot give adequate time to my family. The requirements of professional life drag me away from my home. I am needed all the time in my area. I have to forgo my personal life because of the villagers' needs." Bijay takes time off from work when he needs to spend time at home. He also finds comfort in being with his friends from work. "Sometimes I take leave for 2 or 3 days and do my own work. Initially, I could not do this. Now I am more systematic. I have become very conscious and productive. If I feel that some time is important for my family, I take leave. I also celebrate some occasions, such as New Year, with Pradanites. We also go to the movies or having parties together."
Ajay Samal, Bijay's team leader at Keonjhar and colleague of over 10 years, describes him as having a balance between empathy for the people and hardcore technology; he can learn technology as easily as he can learn to interact with people. "He is very systematic and structured. He does what he wants to show. He pursues goals. He exhibits achievement and motivation in his character. It is difficult for this team to picture itself without Bijay."
It is this atmosphere that excites Bijay the most and this is why he has carried on with PRADAN for so long. "Working with a team of good, like-minded people having honesty, simplicity and feeling for others excites me. Also important are the challenges I face, through which I can contribute something."