Recipient of a ME (Masters in Engineering) (Hydraulics and Irrigation Engineering) from UCE (University College of Engineering), Burla, leads a team of professionals in Keonjhar in the fight against rural poverty.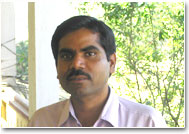 Ajaya grew up in a family that emphasized the importance of education, honesty and leadership qualities. He belonged to a lower middle class family in Jenapada, a village 60 km away from the district headquarters of Cuttack, odisha. His grandfather, a leader of the community, erected schools for the benefit of all. "I imbibed the values of honesty through the environment I was brought up in, and learned how to be so early," he comments. His father saved as much money as he could to send his children to good schools. He sent Ajaya to University College of Engineering, Burla, to study Mechanical Engineering in Hydraulics and Irrigation Engineering.
Ajaya had assumed he would find a job in a private company or with the government and had considered teaching as a profession as well. "I did not know about NGOs at all at that time," he remembers. PRADAN visited the college campus when he was doing his post graduation. He submitted his bio data along with several of his friends. PRADAN took them on a field visit, giving the students a direct experience of its work in the villages. Although still unclear about what exactly working with PRADAN would entail, he allowed himself to be convinced by a friend to join the organization after the final selection process. "I did understand that PRADANites were educated and worked honestly with the people," he adds.
Ajaya's commitment was strengthened after an interaction with a fellow engineer, Achintya Ghosh (IIT Kharagpur at that time was working in PRADAN). He recalls, "I gained an understanding of my colleagues in PRADAN: they were honest, understanding and were doing something to change the situation of the poor. Because of this, I decided to explore if I could continue to work in the organization. If so many people could, why can't I?"
Ajaya remembers some of his early experiences in PRADAN with joy. "The first is when I initiated a community organization of villagers for the first time." It was a very tangible sign that his efforts were productive. "Another was the facilitation of group meetings. At first, it was difficult for me but I discovered that I am enjoying facilitating and coordinating meetings. I also enjoyed reaching out to people living in difficult-to-reach areas, such as in the hills." Using the training he received in college, he expanded the lift irrigation schemes into the hilly pockets that were very difficult to access and had not yet been contacted by the team. "I enjoyed the process even though development was slow because of the obvious difficulties in reaching them."
He took on a leadership role within the team enthusiastically. He was promoted to Team Leader after a few years in Lohardaga. "I enjoyed guiding newcomers and helping other team members to take responsibilities on their own. I also enjoyed facilitating meetings for review, group facilitation and target setting."
Ajaya has been with PRADAN for over 11 years now. He has continued, he says, because of the work environment and the challenges. "I am confident of the support I have from the organization during times of difficulties. The challenges of working with villagers are never-ending. I am gradually discovering my own potential. The environment in the organization is very beautiful. There is no hierarchy; we work together. We have enough space and freedom to try out something new, to guide newcomers and to find new challenges. Whatever we try out, the results are a positive reinforcement."
"The changing market situation has brought about increasing disparity. It compels PRADANites to periodically look at their options. There are some challenges before every PRADANite," remarks Ajaya. "One of them is that PRADANites possibly earn less than what others with the same education and capabilities do outside. This sometimes creates conflict. Although my salary is not very high, I am able to meet my requirements with it. Second, not all PRADANites can stay in the state capital. So the education of their children may be a problem. This varies from one PRADANite to another. Some people are able to give time to the children." When asked how to cope with this, Ajaya replies, "Some people stay in a place where they can get good education. There are many differences and disparities about this, in terms of facilities." However, he says that it is possible to be stationed in a district headquarters after a few years.
Ajaya finds it difficult to choose the one achievement that he is proud of because he says that results do not come from his efforts alone. "It is difficult to say, 'my achievement' because we work as a team. There is joint planning and working," he explains. His team in Lohardaga reached thousands of people, with improved agriculture programmes. This was quite an achievement at the time though it has become common now. He is proud of having helped villagers to earn money through poultry and dairy programmes for the first time. "I cannot claim these as my achievements, but I took some of the risk."
Manas Satpathy, Ajaya's Programme Director and colleague for his entire stint in PRADAN, says, "Ajaya is a very process-oriented person. If something has to be done, he will first think, 'Does this really have to be done?' Then he will consider, 'What is the best way to do it?' Many of his comments are striking. He does not instruct but gives a different perspective to any situation. Often, this has been very useful. He is a thoughtful, serious person, and quite patient. He understands human processes well. He is a good evaluator of himself. He understands what he is doing and what he needs to become."