Bala Devi Ningthoujam, a Post-graduate Delhi School of Social Work, explains why working for PRADAN for her is not work, but rather an opportunity to do something for the villagers she cares about so much.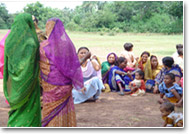 Bala (kneeling) performs a skit with the village women in the Entrepreneurship Workshop.
The women of Basmati know Bala Devi Ningthoujam well and greet her warmly when she arrives. Bala spent her village exposure there in her first year with PRADAN and for the last four years has worked with them and shared a part of their lives. Only a few weeks ago she donated blood and brought soup for one of the women's husbands who was ill in the hospital. Today she is here to conduct an Entrepreneurship Workshop with two of her colleagues for the women who work in the tasar reeling center set up by PRADAN. For two days, through a series of skits, games, and discussions, the three professionals will teach the women about the linkages in the tasar reeling process and to explore ways with each of the women how she personally could be more effective. The Basmati women remain energetic and attentive the whole way through – they are clearly enjoying it.
Bala, a Manipur native remembers her village stay, a required part of the first year of PRADAN, as "the best of times:" "Everything in this experience was new for me – there was this freedom and freshness. I played with the children, I went with the women to go pick mushrooms in the rain in the jungle, I went hunting with the men, I bathed in the lake…you can never know what village life is really like until you have experienced it yourself. And I was so impressed by their ability to enjoy life and to be so happy about small things, despite the fact that they are struggling to survive."
Bala had gained various work experiences while studying her BSc in Psychology and Master in Social Work at DSSW, for instance in mental asylums, prisons, and in the Delhi slums but she was attracted most to working in the rural areas, as this would also give her the opportunity in the future to do something for the poor villagers in her own home state. It was at that point she heard about PRADAN, a voluntary organization based on the belief that well-educated people with empathy towards the poor must work at the grassroots to remove mass poverty. In order to do this, PRADAN works to promote and strengthen livelihoods for poor people in villages through means such as organizing poor women into savings and credit groups, developing and introducing locally suitable sectoral activities to expand economic opportunities in the hands of poor families, imparting livelihood related skills, mobilizing finances from government agencies and banks, and nurturing local institutions to ensure that poor people sustain these livelihood gains. PRADAN currently works with over 1,07,000 families in 2,875 villages across, 87 blocks in 30 districts in the States of Bihar, Chhattisgarh, Jharkhand, Madhya Pradesh, odisha, Rajasthan, and West Bengal.
Bala joined PRADAN in July 2002 and quickly became immersed in her PRADAN work, from working in agriculture to setting up women's Self Help Groups (SHGs), informal associations of 10 to 20 women from the same background who pool their savings and make out loans to members and eventually mature to lever larger loans from banks, and also being involved in livelihood activity such as agriculture and tasar.
Bala says about PRADAN: "Being able to work with the deprived is one of the things I love about PRADAN. You are also given a lot of freedom in PRADAN regarding how you work, for instance with how many villages and to what depth, so it gives you space to use your maximum potential. At the same time, the PRADAN teams are good so that you can always get help when you need it." Her former team leader, Madhabananda Ray, comments: "I sleep well at night when I know Bala is in charge of a project. I know she will put all of her effort into it and that it would get done ahead of time and at a high quality."
Bala feels especially passionate about the work she has done with the SHGs: "It is amazing seeing the change in the women I have worked with in the SHGs – how they blossom and start motivating other women to join the SHG. One SHG as a whole group also started taking social action – for instance, one of the members of the SHG was being beaten by her son. The SHG locked the son out of the house until he promised to take care of his mother and treat her better. He has kept his word since then.
When I am in the villages, it is not work for me – I am welcomed so warmly by the children,
didis
, and
dadas
that I want to do everything for them naturally. One of the reasons I can't see myself leaving PRADAN is because it would mean leaving the villages."
That is why her advice to a person thinking of joining PRADAN is the following: "You need to go to the village and see if you have a genuine passion to help them. If you do, then you are suitable for PRADAN – any of the technical knowledge can be acquired on the job. Being with PRADAN is really your opportunity to do something meaningful."