Binod Raj Dahal, a Post-graduate from Delhi School of Social Work, joined PRADAN 6 years ago to satiate his hunger to serve the rural communities.
In his application to PRADAN in February 2000, Binod, wrote: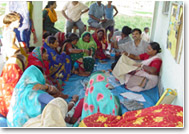 Binod (holding up a picture) with colleagues at a women's SHG.
"While I was working as a Programme Supervisor in Forestry at the Centre for Self Development in Jumla, Nepal, I first encountered people who suffered from severe poverty. It was my first experience in such a remote location, which was not accessible through any form of land transportation as I myself am from a semi-urban area, which has all the standard facilities and amenities. The people I encountered in Jumla had to walk for three days in order to buy food for their families, as their villages were so remote and there was nothing closer. I was struck by the severity of their lives and left my job in the forestry sector in order to pursue social work in order to be able to improve the lives of such people."
Binod, who grew up in the Tanahun District of Nepal and had a BSc in Forestry from Thribhuran University, returned to his alma mater for a MA in Sociology and then went to the Delhi School of Social Work for a MSW in 1998. It was during this time in Delhi that he first heard about PRADAN, a not-for profit organization based on the belief that well-educated people with empathy towards the poor must work at the grassroots to remove mass poverty. To achieve this, PRADAN works to promote and strengthen livelihoods for poor people in villages through means such as organizing poor women into savings and credit groups, developing and introducing locally suitable sectoral activities to expand economic opportunities in the hands of poor families, imparting livelihood related skills, mobilizing finances from government agencies and banks, and nurturing local institutions to ensure that poor people sustain these livelihood gains. PRADAN currently works with over 1,07,000 families in 2,875 villages across, 87 blocks in 30 districts in the States of Bihar, Chhattisgarh, Jharkhand, Madhya Pradesh, odisha, Rajasthan, and West Bengal.
"I knew PRADAN had a good reputation and liked their mission. I also wanted to gain some experience in Indian NGOs before returning to Nepal," Binod admits, "but after working in PRADAN I decided to stay here."
Binod joined PRADAN in June 2000 and was sent too Saraiyahat (Jharkand). He remembers: "Initially I was 'Initially I was a bit frustrated – despite my experience of working in Nepal, I had to go back and be a Development Apprentice in a remote place far away from my family. Then I started becoming immersed in the work and the village communities I was interacting with. During my village stay, I tried to find out everything about their lives and livelihoods and they appreciated my natural inquisitiveness and really accepted me. I set up a few SHGs and became focused on the tasar and reeling activity. Each time I succeeded in the work, more than the success the satisfied faces, their (villagers) smiles brought new joy to me, and I started again with renewed determination to work for them.'
Also, PRADAN's culture is unique – there is a lot of freedom to do your work and no hierarchy. I had formerly worked in organizations that had been fraught with corruption, but there is none of that in PRADAN – everything is transparent and open." Binod has since moved on to become team leader of PRADAN's Godda team, where his family has joined him.
He is especially proud of taking up PRADAN's tasar sericulture project on a large scale with tribals. In tasar, he has worked with over 1200 families to train them in tasar rearing. His former team leader, Madhabananda Ray, reflects: "Binod has a wonderful focus on the community. Whenever we start a project he first considers: what will this do to the families? How will they get the benefit?"
As attributes necessary for a PRADANite, Binod lists: "A positive attitude, the ability to critically assess the problems affecting the community, and most importantly a desire to serve the community." With these, he continues to work with PRADAN against rural poverty that struck him so many years before.
Read other profiles